Replace or Renovate Your Outdoor Grandstands?
What's the right decision? A wise decision is based on the Total Cost of Ownership principle. Upfront costs for renovation or retro-fit are usually less than a full replacement. Even though you may save money upfront, in most cases you will bear the additional costs for maintenance and repair in the near future. In addition, issues with CODE Compliance and safety concerns are a consideration that will likely reduce the amount of your initial savings in the near-term. Additional lost revenue opportunities should be considered as part of your decision given possible poor aesthetics of the facility and the associated lack of fan base support.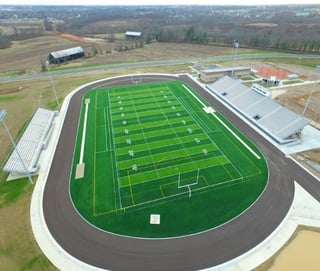 Decision Criteria: Safety / CODE Concerns with Existing Bleachers
Shouldn't safety always be your #1 priority? With that in mind, your current bleachers may be unsafe and not CODE compliant. Before making any decision, be sure you check the following:
Could a Small Child fall through large gaps in your old bleacher?
Make sure you have Side rails/ hand rails to prevent anyone from falling
Check to see if you have ADA ramps for handicap attendees
Check to see if you have enough ADA Handicap Seating for a comfortable view
Get a Structural Engineer's approval before making any decisions on a renovation or full replacement project.
Why Replace?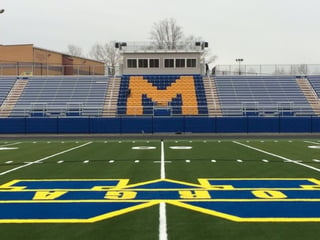 There are several reasons why replacing your existing bleachers with new grandstands would be more cost effective than a budget restricting retro-fit or renovation. Constructing replacement bleachers is a much smoother, less risky, and economically efficient operation. The additional cost for a full replacement bleacher, including understructure, may be less than you think. Initially a full replacement may seem like a more expensive strategy, but after considering the short and long term benefits you may change your mind. Here are a few factors to consider that likely will benefit you in the long run.
Long Term Savings: Spending a little more upfront could give your program a greater return on investment. This investment will last your school 25-30 years!
Annual Tune Ups: Completely replacing a bleacher will allow the school to significantly lower your annual maintenance costs. Aside from your maintenance inspections, the only work that may be necessary is if your rowdy student section loosens foot decking or seat boards.
Color & Logos: Replacement bleachers have the ability to spell out logos or initials with matching risers in school colors giving your bleachers a sharper look.
Admission $: As a school, you will feel more comfortable charging a higher price for a comprehensive seating upgrade that might include VIP chair seating.
Easy Clean: New no-rust aluminum seating and decking will allow you to power wash the bleachers eliminating any rusting.
Fully Enclosed Decking: Unlike most renovations, new replacement bleachers are fully enclosed that have no gaps whatsoever. This keeps trash, debris, or even personal belongings from falling under the bleacher.
Renovation: What to Consider!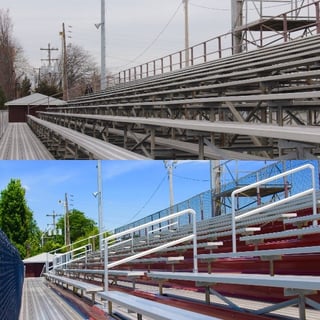 Renovation is a viable option if it is designed and constructed properly. Anytime your school starts to make a decision whether to renovate or replace, there are a couple cautions that need to be considered when it comes to renovation. Although it may save you money upfront, fully evaluate your situation before making a final decision.
Faulty Upgrade: Renovations should be more than a mere face-lift. Mixing/matching new and existing decking and bench seating will likely disappoint. Make sure to seek a subject-matter expert, like Toadvine, before making any big decisions so you don't spend money on a faulty upgrade.
Look and Feel: Renovation can sometimes leave you with a bleacher that has a multitude of different looking products. Make sure to keep all of your seating consistent so you don't end up with a mismatched and unprofessional looking bleacher.
Understructure Warnings: Make sure a structural engineer checks the understructure of the old bleacher to guarantee it will be able to hold and support the added weight of the new additions.
Level Seats: With the merging of bleacher product technologies, it is not a guarantee that your bleacher bench seating will lay straight. With the constant changing of parts and pieces over the years, sections of your bench seating may not align with one another.
Experience
Jim Kessinger, Head Facilities Director of Jefferson County Public Schools in Louisville, KY spoke of his experiences with full replacement and renovation: "In my 35 years of experience, I have done both new replacement and renovation outdoor bleacher projects. New bleachers ultimately just provide a better outcome for our schools with less problems both at time of construction and in the years to follow. Toadvine has been a great partner in guiding us through the appropriate decision making process."
Ask for Help!
Let Toadvine guide you through the decision making process of your new construction project or renovation upgrade. Toadvine is available to share our expertise in all phases of your outdoor bleacher projects, from design to installation and ongoing maintenance. Our experienced team, including project managers, will work with you from start to finish on all aspects of your outdoor bleacher projects.
Next Steps
Call Toadvine for a full evaluation of your current grandstands.

Set up an appointment to meet with our expert team to discuss all the options.

Let us put you in touch with other clients that have made similar decisions.
Contact Us
Email: smelchior@toadvine.com
Phone: 502-912-9508
Topics: Athletic Equipment, outdoor seating, Renovation