They are the center of school spirit and pride. They give definition to who your school is and add personality and distinction to your program. The mascot is one of the most crucial decisions any school has to make. Here is our top list of the most uniques mascots in our region.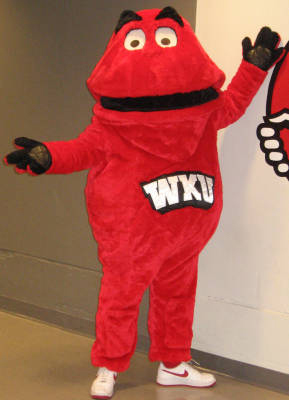 Kentucky:
The Western Kentucky Hilltopper is always a great conversation starter. How can you make a mascot out of the top of a hill? You make a rounded pyramid and give it eyes and a mouth. Big Red, as he is affectionately referred, is always ranking high on the national scene as a favorite, and although he doesn't strike fear in his opponents, he holds a special place in our hearts.
Ohio:
The Dayton Flyers is a very unique mascot. He has a moon boots, a flight suit, and flying goggles and leather helmet—but there is no plane. He ranks high for originality and his full teeth grimace can help the crowd get behind their team with intensity. Akron has Zippy the Kangaroo, and just like Big Red, he does not strike fear into his opponents... but he is unique and fun. Having a mascot that people enjoy can be a real advantage.
Tennessee:
Middle Tennessee Blue Raiders gets honorable mention. With a lightning bolt for a tail and bright white wings, their mascot certainly stands out in a crowd. "Lightening" as he is referred to, eludes to the schools aerospace programs and also points to the region's history of breeding walking horses. East Tennessee State has a Buccaneer as their mascot. Buccaneers are not all that uncommon as mascots. We found it interesting that most schools that have a buccaneer as a mascot are usually located on the water. "Bucky the Pirate" is his name and he has a parrot named Pepper. Say that 10 times fast.
Indiana:
Purdue has the Boilermakers as "Purdue Pete." What is a
Boilermaker
you ask? A Boilermaker is someone who makes boilers or a metalworker in heavy industry. And according to Wikipedia, (LINK) The nickname Boilermakers goes back to 1891 when the Purdue football team defeated nearby rival Wabash College in
Crawfordsville, Indiana
44–0.
Mascots have become even more popular than some teams. They can have big impacts on a schools' tradition and branding. Many schools revamp their mascot's look every 10-15 years to keep them looking modern. Although some mascots need no improvements because they are simply timeless. Let us know what your favorite mascot is.
Topics: stadium seating, high school scoreboards, Western Kentucky Hilltoppers, Dayton Flyers, Middle Tennessee Blue Raiders, Purdue Boilermarkers