A massive crowd of thousands has gathered. Spectators fill the coliseum as a collective roar of excitement fills the air. Athletes from around the world have come together in Athens for the first modern Olympic Games. Only the finest have been chosen, those at the top of their game.
All focus has shifted to the track and field events. Those with lightning speed skill and unprecedented agility will come out on top. The year is 1896. The wooden hurdles are set in place and embedded in the ground. Perfect jumping ability and running skill moves the winner through the first ever 110-meter hurdle event at a record time of 17.6 seconds.
More than 100 years later, Aries Merritt utilizes his running ability to sprint, hurdle, and sprint again, maintaining steady momentum and keeping a steady center of gravity to clear 10 hurdles in the 110 meter race at a new record time of 12.8 seconds.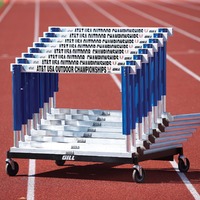 Just as progression has been made in the skill of talented athletes, progress has also been made in the design, make up, and functionality of competitive hurdles. Ancient wooden hurdles have since been replaced by L-shaped frames with integrated counter balances which allow hurdles to fall over with pressure and eliminate the risk of injury. More durable materials are used, along with features that allow the hurdle to be adjusted to different heights. If you are searching for track and field equipment options, here are a few hurdles offered by Toadvine Enterprises that will exceed your technological expectations and leap you into competitive excellence.
Gill Continuum Automatic Hurdle – This is considered the safest, fastest and most unobtrusive hurdle available for use in any competitive arena.
National Aluminum Hurdle – Made of aircraft aluminum, this high-tech hurdle is adjustable to 5 different heights.
Elite High School Hurdle – Constructed of aluminum tube construction, this hurdle has welded support for extreme durability
Gill Essentials Hurdle – The most economical hurdle made with no pull-over technology, this no frills equipment is perfect for a start up high school track and field team.
Toadvine Enterprises supplies sporting equipment of all kinds to schools and facilites in Kentucky, Indiana, Tennessee, and Ohio. Contact us for more information about our Track and Field equipment.
Topics: Toadvine Enterprises, Kentucky athletic equipment, Track and Field, Athletic Equipment, Track and Field Equipment
You have probably heard it said, "It's not how you start, but it's how you finish." Tell that to track athletes and they will all agree the start is just as important as the finish. If runners can improve their start times, they have just improved their chances of winning. Toadvine Enterprises carries several products that are designed just for that.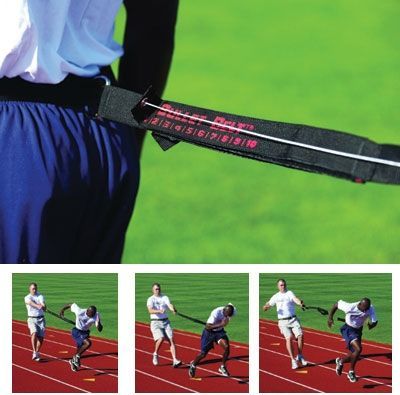 A couple of products that will help with explosive starts are the Power Sprinter, the Dynamic Trainer, and the Pop Belt. The Power Sprinter is the only arm and leg resistance running backpedal device on the market. It is great because it doesn't require a partner. It builds strength in the arms and helps with arm technique, while simultaneously creating resistance to the legs at the ankles.

The Dynamic Trainer has more variety and is not limited to helping athletes with their starts. You can also use this trainer for lateral work and jumps. It not only provides resistance, but is also designed to help runners improve their start through better acceleration mechanics.
Lastly, we are highlighting the Pop Belt which features break-away technology. When an athlete breaks out of the blocks using this device, they do not experience the overload and slowing from traditional resistance like the other devices create. When the trainer creates resistance it is only for a moment until the athlete breaks free through the force of their start. The resistance is not sustained because the cord breaks from the trainer once the break-away limit is reached.

If you believe the start matters as much as the finish, then you should be training with the best equipment designed with the start in mind. It is all about coming out of the blocks explosively.
Topics: Track and Field, Athletic Equipment, Track and Field Equipment, Power Sprinter, Dynamic Trainer, Pop Belt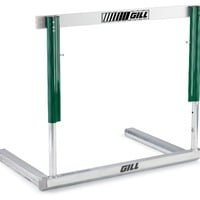 Start getting out all your hurdles and dusting them off. Make sure you are completely prepared for this track and field season. Toadvine Enterprises has some great deal on some products that no school should go without.
Pole Vault Valuepack
Vault Boxes Pole Vault Accessories
High Jump Valuepack
High Jump and Pole Vault Landing Systems
Pole Vault Standards and Crossbars
Pit Garages
PacerFX and Carbon Mystic Poles and Accessories
Hurdles (Manual, Automatic, and Aluminum)
Customized Gateboards
Batons
Timing Systems
Speed and Strength Training Equipment
Discus, Shot Put, and Javelin Equipment
Field Cages and Barriers
Throw Circles
Steeple Chase and Water Jump Barriers
Take-Off Boards and Jump Platforms
Sand Pit Systems and Covers
Timing and Photo Finish Line Systems
Starting Pistols and Blanks
Race Accessories like Starting Numbers, Flags, and Finish Line Tape
Manual and Digital Lap Counters
Wind Indicators and Wind Gauge Kits
Stop Watch and Time Keeping Devices

Whatever you need you should call Toadvine today. Toadvine has affordable options for every budget. We look forward to getting you on course for a successful track and field season.
Topics: Track and Field, Athletic Equipment, Track and Field Equipment