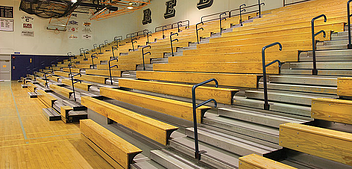 A search on the internet for bleacher safety will bring up multiple attorney listings and assistance for bleacher related injuries. Families today are exposed to unsafe spectator seating in a variety of settings and injuries relating to these accidents continue to call attention to the need for accelerated safety measures.
The U.S. Consumer Product Safety Commission (CPSC) examined bleacher injury associated data from 1991-1999 and revealed that there were an average of 19,100 bleacher-related injuries that were treated in the emergency room. In the year 1999 alone, 22,100 injuries were treated in the ER. Of those injuries 6,100 of them resulted from a fall from or through the bleachers onto the surface below. Because of the severity of these incidents, it is essential for organizations and schools to develop a plan to inspect, repair and maintain their seating systems to prevent incidents like these.
At Toadvine Enterprises, safety is a priority and because we believe in keeping your establishments safe, we have developed a maintenance and safety inspection program for all of your indoor and outdoor seating and equipment. Our Vine & Branch program offers manufacturer certified service technicians to ensure the safety of your seating. Here are some of the services our team will provide in order to keep your facility safely maintained:
A thorough visual inspection of your facility and/or designated equipment.

A full listing of defective equipment or upgrade requirements.

A written report will be provided to you upon completion of the inspection, noting any safety and/or standard violations, and recommendations for corrective action.
We perform annually-required maintenance inspections on all equipment and seating and yearly contracts that work around your needs. Please contact Ben Toadvine: ben@toadvine.com or Matt Roberts: mroberts@toadvine.com or use our online form to request a regular maintenance check regarding the safety of your facility seating. Toadvine is happy to assist you in maintaining the safety of your facility and your family.
Topics: bleacher inspections, Bleacher maintenance, Toadvine bleacher seating in Louisville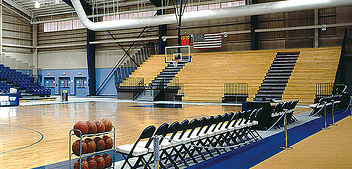 Wooden bleachers in a gymnasium convey a traditional, classic look, one of durability and rich construction. Wood bench bleacher seating is generally constructed of yellow pine lumber in a telescopic layout. Wood bleacher seating greatly enhances the appearance of any gym or facility.
Additional features of wooden seating includes:
Grade BB southern yellow pine wood
Laminated edges glued and finger jointed on wood boards for greater strength and durability
Standard wood thickness of 3/4"
Sides and edge boards finished on both sides
Seats and risers firmly secured to a welded seat support
Triple-sanded and sealed with moisture resistant urethane
To learn more or request a quote, click here and fill out our short form. Someone from Toadvine Enterprises will get back with you soon.
Topics: basketball bleachers, Toadvine bleacher seating in Louisville, wooden bleachers