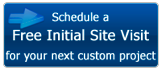 Any improvements you make to your school, facility, playing field, or gym equipment is an important one. Especially for custom work, you want to make sure you're getting exactly what you want and that the manufacturer understands any time constraints, budget limitations, and specific details that you have.
That's why we think it's important to offer a free initial on-site so we make sure we've spoken to you face-to-face and know exactly what it is you need.
If you would like us to schedule a visit to your facility, please fill out this form. You'll receive a confirmation email and someone from our office will get in touch with you soon to schedule a meeting. On-site visits are available based on location and current scheduling, but rest assured, your project is very important to us.
If you have any questions before you're ready to schedule an on-site visit, you can contact us through our website or call our office at 502.241.6010.
Topics: schedule a visit, Toadvine Enterprises, Athletic Equipment, Kentucky athletics, custom projects, Indiana athletics
About this Blog
Our blog is written for athletic directors and school superintendents of elementary schools, middle and high schools, as well as colleges and universities.
We blog about local sports and industry news, bleacher and stadium maintenance, and current projects we're working on. We encourage you to subscribe in the box above or share this blog with your friends!