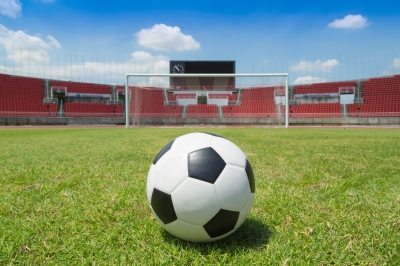 Even though books are packed away and studying has been put on hold for a few weeks, student athletes are scoring big on the soccer practice field this summer and gearing up for a busy sports season.
As your team swings into action this summer, it's time to consider how you will accommodate your team's fans when the competition heats up. Toadvine Enterprises has everything you need to equip, outfit and prepare your soccer team for competition, and when it comes to outdoor seating for your team's fans, we have that covered, too.
We have completed many high-profile outdoor seating projects and have been providing bleacher seating to fans in Kentucky, Ohio, Indiana and Tennessee for more than 30 years. We take pride in offering top-of-the-line soccer bleachers along with exceptional customer service.
If you would like to add outdoor seating to your facility, consider our Alum-a-Stand Elevated and Non-elevated bleachers. Elevated aluminum bleachers are the perfect addition to any sports field for home and visitor seating. Non-elevated bleachers are great for any event that requires just a few rows of outdoor seating. We can also set you up with Press Boxes, custom seating finishes, multiple railing options and more. We customize your facility to fit your vision and your budget.
Fill out the form here and one of our seating professionals will contact you to discuss your individual needs. Our "goal" at Toadvine Enterprises is to help you customize your soccer seating from start to finish so that you score big with all the fans.
Image courtesy of hin255 / FreeDigitalPhotos.net
Topics: bleacher design, outdoor seating, soccer bleachers
About this Blog
Our blog is written for athletic directors and school superintendents of elementary schools, middle and high schools, as well as colleges and universities.
We blog about local sports and industry news, bleacher and stadium maintenance, and current projects we're working on. We encourage you to subscribe in the box above or share this blog with your friends!