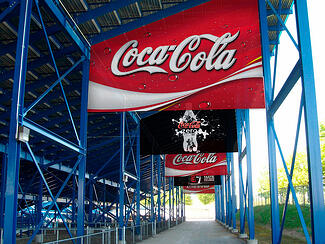 Choosing the right type of sign that gets the most notice is so important for both your business sponsor and your program. Dant Clayton has produced a new light weight sign that will meet both budget and ease of use. These light weight signs are so versatile they can be hung just about anywhere and that gives you more opportunities for raising support than you used to have. Since they are so easy and light you can put signs where you did not have them formerly. These signs are designed specifically to be installed on structures like bleachers and high pedestrian traffic areas.
Advantages of light-weight signage
Cost: Most times these light weight signs from Dant Clayton are less than half the cost of their aluminum counterparts. By reducing the costs by over half, you can put those savings right back into your facility. Still charge your business sponsors the same amount and use those funds for better equipment.
Easily Relocate: These signs are a fraction of the weight of the aluminum signs and can easily be installed, removed, and relocated when you want to use them in other areas. You can remove them each season and protect them from weathering in outdoor facilities.
Wow Factor: These new, light weight signs have amazing color and graphic options. Your supporters will be impressed with the new look and it can transform the feel of your entire facility from ordinary to highly professional. Your sponsors will be impressed with the upgrade in look and feel.
Opportunity For New Funds: Since these signs are such a great improvement, you may want to consider replacing older signage for new fundraising opportunities. Go to your current sponsors and have them renew their support. Take sample signage with you for them to see how much nicer and impressive they are.
Call us today with your questions about Dant Clayton's light weight signage! There is never a wrong time to invest in your program or facility.
Topics: advertising options for high schools, stadium advertising opportunities, Kentucky athletics, Fall sports in Kentucky, football stadium seating, Dant Clayton, Kentucky sporting goods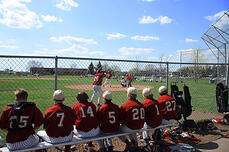 Look at the high school sports programs that attract the best talent around the country. What do 99% of them have in common? Answer: a great sports facility. There is much more to a great sports facility than just attracting great talent. An overlooked benefit is your program's ability to keep the most talented athletes in your community. Parents of the most talented middle school athletes often move to districts where their children have the best opportunities for coaching, development, and potentially college recruiting.
When the "top ten" lists come out every preseason for your state, you can guarantee that the programs on those lists have premium facilities. The other factor that may pull some of the top athletes away is not another school, but a "club league" that draws more exposure than even the top-performing high schools. An article from AthleticBusiness.com says, "Popular club sports such as basketball, swimming, volleyball, hockey, and soccer that target players of slightly above-average ability all the way up to elite status may provide stronger competition." If the competition is higher than that of the state's high schools, that tells you where the college recruiters will look first.
Beyond just adding to your facility with the latest and best products, what can be done to help retain talent? Dialoguing with your community well, and often, about where your program is headed and what the plans are for the near future is a great way of keeping the parents of the younger and older athletes engaged in the programs of their local high school. When the athletic director is a natural leader, and knows how to network, a newsletter is a great way to get people to buy into the dream and the vision. Once you have a base of followers, turn those followers into marketers. Have contests to see who can generate the most Facebook likes for your high school's sport social page or who can sign up the most subscribers for the newsletter. This does not have to be an overwhelming "to-do" where you send out vision statements every month. Make it simple, and tell people where you are and where you are headed. You may be surprised how far this will get you.
Topics: advertising options for high schools, High school Athletic Directors, Kentucky athletic equipment, budgeting for high school sports, Kentucky athletic programs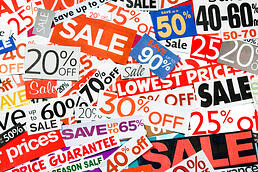 The Top 10 according to Dant Clayton:
Colosseum Chairs

VIP

Seating Section
Bannerrail™
Admesh™ Banners
Concourse Banners
Banners at Top of Grandstands
Vertical Banners
Field Level Advertising
Loge Boxes
Aisle and Stair Riser Advertising
Did you notice the theme? Seven out of 10 of these categories are specifically titles with "banner" or "advertising." With Dant's slick new designs and advertising products, they are not only light weight and user friendly, they are nearly 60% less cost compared to traditional aluminum signage. You can put those savings right back into new equipment and facility improvements.
It's a win win; you get more exposure and impressive, modernized ad pieces that draw the attention of your fans and followers, and you get the opportunity to engage new business ad support for your organization. Call and schedule a time for us to show you this product line from Dant Clayton.
The VIP section may sound showy but many of the elite national high school and collegiate sports programs are embracing this idea and it is paying off. You might be surprised to find out how many of your fans would also embrace this idea and jump at the opportunity to participate in a VIP section. Let us walk you through some of the unique products Dant Clayton offers in this category and how this enhancement can elevate your program.
How are you recognizing the fans and supporters of your program and making them feel special and important?
Topics: advertising options for high schools, high school scoreboards, Kentucky athletics, college stadium seating, Dant Clayton, high school sports advertising, Indiana athletics