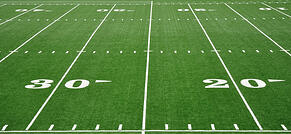 High school football is wrapping up over the next three weeks. It's playoff time, which means your stadium and your scoreboard get a rest. If your team is still alive, then good luck. If you're just curious which teams are still alive, then this link will let you search all of Kentucky football classes. While we're at it, here's a link for Tennessee, Indiana, and Ohio. We aim to please.
A lot of action has taken place during the season, and if your scoreboard has taken some dings, we're here to help. Our team at Toadvine Enterprises, in partnership with Nevco, can fix what's broken. If you're just ready to replace your existing football scoreboard or soccer scoreboard, then we can help with that as well. Fill out our request a quote form on our website, and someone from our team will be in touch within 24 hours, probably sooner. We still use the telephone too, so ring us at 502-241-6010 if that's your style.
While it's easy to put off repairs with basketball season upon us and the focus shifting indoors, don't wait. Check that puppy off your to do list this month.
Speaking of basketball season, we do indoor scoreboards as well for basketball and volleyball. If you're in a bind and need a repair or a new one before the season gets rocking, contact us today.
P.S. Who's gonna win the state football tournaments? Give us your picks in the comments below.
Topics: basketball scoreboards, Toadvine Enterprises 24 hour response, Toadvine Enterprises, football equipment, Football season, Nevco, basketball season

Basketball season is just around the corner, so now is the time to make improvements to your old basketball system. As you know, there are several considerations to make when deciding whether or not to invest in new basketball equipment. We've outlined a few of them for you below:
Is your basketball rim loose? If it no longer has the flex your players want, one option you might want to consider is trying Porters new Torq Flex 180. This basketball rim flexes around a 180 degree arc at the front of the rim, at the side, and everywhere in-between. This goals is a perfect solution for most schools' main court competition. The Torq-Flex 180 Goal is the proper rim and provides the necessary elasticity and ball rebound characteristics to keep your game play fair. Also, each goal includes Porters Anti-Whip net.
Do you have a height adjuster system that is hard to handle? If yours has too much wiggle in it, one option we provide is electric and manual height adjusters, which give your goals the strength and durability for all levels of play.
Are the pads around your backboard falling off or missing? If so, they need to be replaced. Porter offers revolutionary bolt-on padding that keeps your players safe. It also comes in an assortment of colors to match your school.
If your system needs replacing, we encourage you to give us a call at 502.241.6010. You can even
request a quote
through our online form.
Topics: basketball scoreboards, Toadvine Enterprises, Porter Athletics, Basketball equipment, basketball season

Nevco has a great offer out on scoreboards that we wanted to pass along.
From now until the end of November, if you order any two indoor basketball, volleyball, or wresting scoreboards with a wireless package, you'll receive a free 8′×2′ sponsor sign with your school name and color.
The sponsor sign is valued at $350. If you're in the market for a new indoor scoreboard, now is a great time to seriously consider buying. You've got until the end of November to take advantage of this special from Nevco.
If you want more details or information, please contact us online or call our office at 502.241.6010.
Topics: basketball scoreboards, Toadvine Enterprises, Athletic Equipment, Nevco, scoreboard sale