A massive crowd of thousands has gathered. Spectators fill the coliseum as a collective roar of excitement fills the air. Athletes from around the world have come together in Athens for the first modern Olympic Games. Only the finest have been chosen, those at the top of their game.
All focus has shifted to the track and field events. Those with lightning speed skill and unprecedented agility will come out on top. The year is 1896. The wooden hurdles are set in place and embedded in the ground. Perfect jumping ability and running skill moves the winner through the first ever 110-meter hurdle event at a record time of 17.6 seconds.
More than 100 years later, Aries Merritt utilizes his running ability to sprint, hurdle, and sprint again, maintaining steady momentum and keeping a steady center of gravity to clear 10 hurdles in the 110 meter race at a new record time of 12.8 seconds.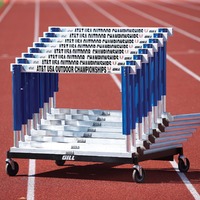 Just as progression has been made in the skill of talented athletes, progress has also been made in the design, make up, and functionality of competitive hurdles. Ancient wooden hurdles have since been replaced by L-shaped frames with integrated counter balances which allow hurdles to fall over with pressure and eliminate the risk of injury. More durable materials are used, along with features that allow the hurdle to be adjusted to different heights. If you are searching for track and field equipment options, here are a few hurdles offered by Toadvine Enterprises that will exceed your technological expectations and leap you into competitive excellence.
Gill Continuum Automatic Hurdle – This is considered the safest, fastest and most unobtrusive hurdle available for use in any competitive arena.
National Aluminum Hurdle – Made of aircraft aluminum, this high-tech hurdle is adjustable to 5 different heights.
Elite High School Hurdle – Constructed of aluminum tube construction, this hurdle has welded support for extreme durability
Gill Essentials Hurdle – The most economical hurdle made with no pull-over technology, this no frills equipment is perfect for a start up high school track and field team.
Toadvine Enterprises supplies sporting equipment of all kinds to schools and facilites in Kentucky, Indiana, Tennessee, and Ohio. Contact us for more information about our Track and Field equipment.
Topics: Toadvine Enterprises, Kentucky athletic equipment, Track and Field, Athletic Equipment, Track and Field Equipment