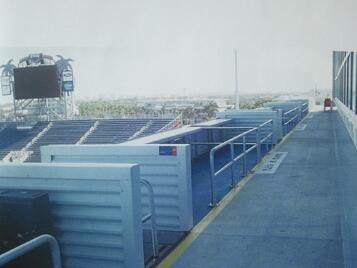 Loge boxes are areas of private seating that typically have an open space for mobile seating like folding chairs, but are bordered by railing. They give the spectator a more flexible viewing experience along with a little more privacy during the event. They also have the conveniences of drink rails, defined private spaces, and can be customized to your objectives. If you are a high school or collegiate sports program, you may wonder why you need something like this. Here are just a few examples of why loge boxes can really help your program.
A Way To Honor Special Guests
If you have faculty that you want to honor during events or during athletic matches, a loge box makes great sense for you. A loge box can be used at every event as a way to honor teachers, donors, sponsors, faculty, visiting governing officials, returning alumni, and others.

Create Option Between Luxury Suites and Club Seating
If you have luxury suites you can use loge boxes as the middle option and as a way to increase your revenue. If there are people reserving the luxury suites there will be a portion of spectators who would find loge boxes to be the price point that they are comfortable with and would be excited to reserve their own box for the season. If a business reserves the box you can suggest ad placement there in addition to or included in the price.

If Luxury Suites Are Too Nice
If your program is not at the point of having spectators open to the amenities of a luxury suite, loge boxes can become your high end offering to sponsors and spectators willing to spend a little more on their sports experience. Loge boxes do not have to be much different than the standard club seating. They can be different enough to fill them, but not too different that they don't fit into the environment of your overall facility.

Contact Toadvine Enterprises today with your questions and let us walk you through the benefits of loge boxes for your program. We look forward to your call.
Topics: bleacher design, football bleachers, bleachers, baseball bleachers, football bleacher, athletic bleachers, loge box, loge boxes, loge box seats, bleacher