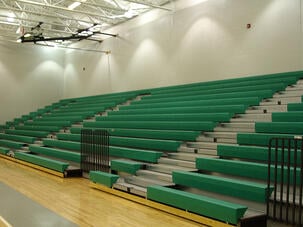 Now is the time to be inspecting your bleachers and scoreboards. You do not want to be midway through the season and have a problem that delays your season, forfeits a match, or results in an injury. Toadvine Enterprises and Vine and Branch have developed a maintenance program that inspects your equipment using fully manufacturer-certified technicians. Using certified technicians to inspect your equipment ensures the safety of your seating.
The Maintenance Program
A thorough visual inspection of your facility and/or designated equipment
A full listing of defective equipment or upgrade requirements
A written report will be provided to you upon inspection completion noting any safety and/or standard violations with recommendations for corrective action
According to the National Fire Protection Association (NFPA), all outdoor grandstands and folding or telescoping seating must be inspected annually by an engineer, registered architect, or manufacturer-certified inspector. It just makes sense to have your equipment inspected by someone who is an expert of that equipment.
That is where Toadvine Enterprises comes in. We live and breathe seating and sports facility equipment, so when we finish inspecting your seating, let us inspect your scoreboards and other facility equipment. You save time and money by combining these services and you can take advantage of our expertise in this industry. We can share all the latest benefits of new products and help you extend the life of your existing equipment. Give us a call today to schedule your bleacher inspection. Toadvine Enterprises (502) 241-6010.
Topics: scoreboard inspections, bleacher inspections, sports facility maintenance, football stadium seating, Kentucky equipment maintenance
About this Blog
Our blog is written for athletic directors and school superintendents of elementary schools, middle and high schools, as well as colleges and universities.
We blog about local sports and industry news, bleacher and stadium maintenance, and current projects we're working on. We encourage you to subscribe in the box above or share this blog with your friends!