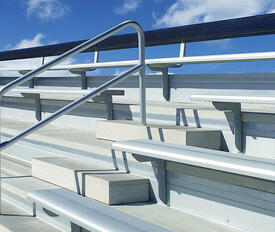 Hybrid Precast Stadium Systems are a patented product by Dant Clayton that provides the benefits of a complete concrete stadium at a significantly reduced cost.
This pre-engineered metal grandstand is safe, functional and aesthetically pleasing, made with a lightweight precast concrete walking surface. Made with an economical steel structure, this revolutionary system functions in combination with any type of structure support system and can be equipped with many features and options. This system provides the best of both worlds; a concrete stadium experience on a pre-engineered bleacher budget. Additional features include:
Concrete walking surfaces
Look and feel of traditional precast risers
Reduced noise, vibration and deflection
Lower cost
Performance and value
Limitless design options
Accommodates any tread depth, guardrail type, seat type or column grid
Maximizes water control
Minimizes the effects of thermal expansion
Complete turnkey system
Simple and quick erection process
Today's sports facilities must accommodate the needs of athletes, fans, teams, VIPs and owners, all while maintaining tight budgets. By using concrete in a facility, the spectator experience is maximized, but sometimes that comes at a cost outside the project budget. This evolutionary design maximizes the spectator experience and satisfaction, with the benefits of a concrete stadium without the cost of one.
Contact Toadvine to find out how your facility can be converted into a revolutionary stadium at a budget-friendly cost.
Topics: bleacher design, Dant Clayton, Hybrid Precast Bleachers

Are you wanting the look and feel of a concrete stadium, but can't afford the price tag? No worries, Dant Clayton has the solution for you! Introducing Dant Clayton's Precast Concrete Stadium. This technology breakthrough provides the feel and benefits of a concrete stadium, without the cost of one. Their evolutionary design combines the use of precast concrete pieces with an economical steel structure.
The hybrid precast system does what no other system out there is able to do! Dant Clayton's hybrid system gives fans a solid and sturdy walking surface with less noise, vibration, and deflection, allowing for the concrete stadium experience on a pre-engineered budget!
The key features of this evolutionary design are what makes it ahead of the curve!
No drilling into concrete for seat attachments
Structural steel column grid can be engineered for any application
It is half the weight of conventional pre-cast risers
All engineering, fabrication, and erection are performed by Dant Clayton, simplifying the design and construction process
Works with bleacher benches, chairs, or

ANY

other seat type
Call Toadvine today to figure out how we can give you a stadium like the pros on your budget!
Topics: outdoor stadium seating, Toadvine Enterprises, Bleacher maintenance, indoor seating, college stadium seating, Dant Clayton, Hybrid Precast Bleachers