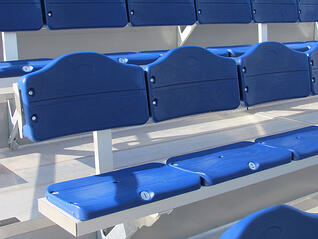 Toadvine Enterprises currently has an overstock of royal blue Colosseum Two Chairs for sale. The seats list for $20 but are now on sale for $15 plus freight and installation. Here are some specifications about the seats:
Ergonomically-designed compound curve seat
Interlocking design allows for up to 20% more seating surface
"Waterfall" front contour reduces stress on the underside of legs
Designed for outdoor or indoor use
Added UV inhibitors to help maintain color
Quantities are limited so if you're interested in learning more, call our office at (502) 241-6010.
Topics: outdoor stadium seating, equipment maintenance, Indiana stadium seating, Tennessee stadium seating, Colosseum Two Chairs, Kentucky athletic equipment, indoor seating, seating maintenance, Dant Clayton
About this Blog
Our blog is written for athletic directors and school superintendents of elementary schools, middle and high schools, as well as colleges and universities.
We blog about local sports and industry news, bleacher and stadium maintenance, and current projects we're working on. We encourage you to subscribe in the box above or share this blog with your friends!