Keep your equipment organized and mobile
Generations back, teams would throw all their basketballs into duffle bags and canvas sacks, but now we have the professional look and ease of cages and carts that make storage and transporting dozens of basketballs easy.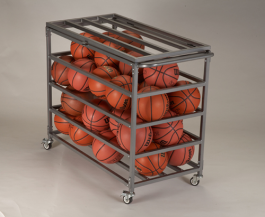 The 35 ball capacity ball cage from Porter Athletic (93710) is made with a steel frame and has casters that swivel, making it easy for anyone to move from storage to the court. The lid locks to keep basketballs secure when you want to keep them contained.

We also carry heavy-duty ball carts that come in 15 and 30 ball capacity (single cart-93700, double cart-93701). These carts also have steel frames with swivel casters for easy transportation and storage. Are you getting ready for the basketball tournaments? Pick up a cart for each end of the court and add to the professionalism of your facility. At the same time, make life a little easier for your equipment managers.

Don't forget the sketch clipboards for the coach (3771). You always have to be ready to draw up the game winning play with five seconds left on the clock. Call us today with your questions and for details on pricing (502) 241-6010.

Topics: Athletic Equipment, Porter Athletics, basketball cage, Porter equipment, Kentucky Basketball
About this Blog
Our blog is written for athletic directors and school superintendents of elementary schools, middle and high schools, as well as colleges and universities.
We blog about local sports and industry news, bleacher and stadium maintenance, and current projects we're working on. We encourage you to subscribe in the box above or share this blog with your friends!