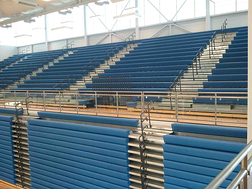 Fans and spectators have been utilizing telescopic bleachers for their seating choice in facilities and gymnasiums for more than 70 years. The practical design and flexibility of this seating has kept the telescopic bleacher a popular choice in many arenas.
Each telescopic bleacher project is custom made, adapted to the dimensions available in the indoor facility. Mainly used in indoor facilities to increase seating capacity, this product adds a series of bleacher modules that can be folded to occupy very little space when not being used.
As the top provider of telescopic bleachers for more than 30 years, Toadvine Enterprises offers several different types of telescopic bleacher seating that will meet the needs of your facility with a quality product and exceptional customer service. Here are the different varieties of telescopic bleachers we offer and a description of how they might benefit your organization.
Reverse Fold Systems. This type of telescopic bleacher is designed to utilize the space behind the bleacher stack for other activities when the bleacher is not in use. These systems are recommended to have up to 18 rows.
Forward Fold. The most common telescopic seating system is the forward fold bleachers which open in the forward direction. These systems are available in up to 24 rows.
Recessed Systems. The best feature of the recessed bleacher system is the fact that they require minimal clearance for a nice comfortable fit under a balcony overhang. This type of system is helpful when you wish to utilize floor space when the bleachers are stacked away.
Mobile Systems. The advantage of using the mobile system is that they can be used in one part of a building and then transported and stored in another. Portable hydraulic dollies are provided with the system. These systems are available with up to 14 rows.
Free-Standing Floor-Attached Systems. When bleachers are required to stand away from the wall, or when the facility restricts wall attachment, these bleachers are ideal. Contact us for details on row restrictions.
All of our Telescopic Bleacher Seating systems feature outstanding durability and are built with the safest and most secure under-structure in the industry, providing great comfort and a stunning appearance. Here are some other options available to you at Toadvine when you select telescopic bleacher seating:
Built to last
Wide range of colors
Built to fit a variety of facilities
Self-storing aisle rails
Power options
Options and Accessories
Contact Toadvine Enterprises today to find out what telescopic bleacher system is best for your facility.
Topics: stadium seating, Stadium seating maintenance, Telescopic Bleacher Seating, Reverse Fold Systems