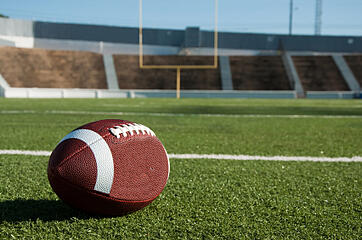 After running hundreds of plays, ramming a multitude of helmets, and dripping endless sweat after a full season of sweltering practices, the lights on the football field are slated to come on and spotlight the players who have worked feverishly to get here.
They come suited up; jerseys crisp, helmets tightly snapped, and footballs firmly prepared for the big game. Fortunately, with the help of Toadvine Enterprises, all equipment and accessory needs for the football season were ordered and met just in time for that first game whistle.
Make sure your school is prepared and your locker rooms are decked out with all the equipment you need to outscore the other team this football season. Toadvine provides all your school's equipment and accessory needs. If you have any last minute orders or need to replace some worn out equipment, Toadvine can take care of your school's sporting good needs. We solve all your equipment needs. First time. Every time.
Visit our homepage and hit the 'click here for help' button if you need a quick solution for your athletic equipment. We have a 24 hour guaranteed response. That's our promise.
Topics: Kentucky athletic equipment, equipment ordering, football equipment