Our goal is to provide indoor spectator seating solutions that fully meet the needs and vision of our customer.
Whether its stadium chairs, platform chairs, or traditional bench seating, we offer a variety of seating options to best suit any gymnasium experience.
Indoor Chair Seating Options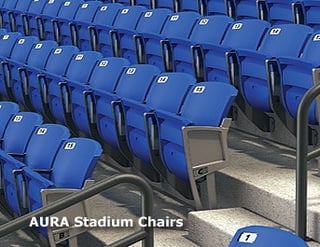 The AURA Stadium Chair is designed for ergonomic comfort and outstanding appearance. The AURA chair provides a strength and durability that can be counted on for many years to come. Available in Slat-back or Solid-back design for outdoor applications.
Features and optional accessories on the AURA chair include:
• Floor or riser mounted stanchions
• Cup holders
• Upholstered onserts
• ADA easy access stanchions
• Seat numbers and row lettering
• End stanchion logos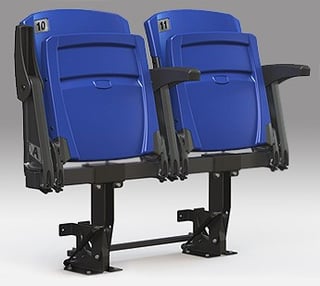 The VISION Platform Chair is maintains its seat pan width from front to back to make for a comfortable experience for fans of all shapes and sizes.
Available in three types of chair fold-down operation:
• Manual
• Semi-Manual w/assisted release
• Semi-Automatic
Features and optional accessories on the VISION chair include:
• Cup holders (20″ minimum seat width)
• Upholstered seat and back onserts
• Seat numbers and row letters
• Available in 15 standard colors
• Custom colors are available upon request

Indoor Bench Seating
Interkal_Telescopic_Seating_2017-1
More traditional bench seating comes in multiple seat modules and colors as well as classic wood.

Seat Modules:
• Excel Seat Modules (ESM)
• Sculpture Seat Modules (SSM)
• Contour Seat Modules (CSM)
o 18″ wide seat modules with a 12" standard seat depth
o Provide a minimum adult seat height of 17" to achieve greater spectator comfort
o Provide 30% more leg room than competitive products
Classic Wood Bench Seating:
• Constructed of southern yellow pine lumber, grade BB or better
• Standard wood thickness: 1" nominal (3/4" actual)
• All boards finished on both sides and all edges
• Each board is triple-sanded and sealed with a moisture-resist urethane
• A high-gloss urethane is applied for added protection
• Available with 22,24,26,30,32 and 33-inch back-to-back spacing