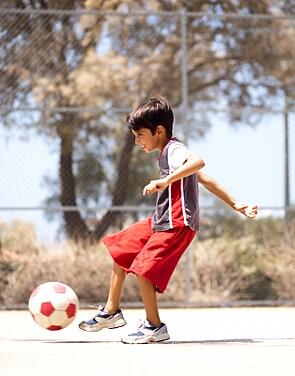 If Physical Education at your school consists of a whistle and 40 minutes of free time, you could be depriving young children of reaching critical developmental milestones and the opportunity to excel academically.
Researchers with Project SPARK (Sports, Play and Active Recreation for Kids) experimented with equipment items of varying sizes, shapes, weights and textures to determine if they could foster greater inclusion, activity, and enjoyment during school PE classes in the students. Equipment in each school's physical education program was found to be a critical component of a quality physical education, not only because recreational supplies needed to be provided in sufficient quantities for students to participate, but also because the PE equipment was helpful in differentiating instruction, increasing the levels of student participation and their enjoyment of PE. Adequate and diverse recreational supplies and equipment for PE classes were also proven to build self-confidence.
The study also revealed the benefits of having age-appropriate equipment and its effect on several other non-health related outcomes such as:
teamwork - culture building and collaboration
retention - when students enjoy PE more they participate at higher levels and want to be in school
academic achievement - SPARK research also shows that students spending more time in SPARK PE and less time in the classroom will do as well or better with standardized test scores.
Is your school prepared with a variety of age-appropriate, visually appealing PE equipment that will keep your school-age kids stimulated and engaged? If you need some ideas to get started, click here. If it's time to bump up or begin your school's PE supply closet, we will be happy to help your school develop a supply of equipment for any size budget.
Topics: Athletic Equipment, Fall sports in Kentucky, equipment ordering