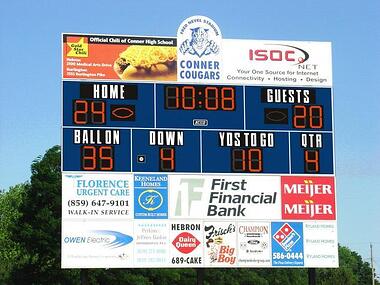 Before that first buzzer ever sounds, laps are being run, plays are being taught, and strategies are being formulated to dominate the opposing team. When the days of pre-season practice come to an end and it's time to step on that court for the first home game, the fans and athletes alike are anxiously awaiting the match up. Imagine the anticipation of that first game and when that moment finally arrives, there is no buzzer. What if the numbers on the scoreboard don't light up properly or the timer isn't working?
Although many schools may invest in a state-of-the-art scoreboard for their sporting activities, the maintenance of this equipment may get overlooked, resulting in a disastrous game day outcome. An excellent way of insuring that your school avoids the unpleasantness of scoreboard problems is to take care of the internal electronic components during the off season.
For George Cornwall, long time electronic supervisor for the Lee County School District in Fort Myers, Florida, preventative maintenance is the key to keeping a fully operating scoreboard.
"A lot of our maintenance involves cleaning contact and connections. We summer-ize our boards in the off-season too," Cornwell said. "Our outside circuit boards are taken off and stored inside to avoid damage. We don't completely strip them, but we do remove major components in the off-season and prior to season, we put them back. You have to do preventative maintenance to keep them in top condition."
Athletic Directors or Facilities Managers should direct someone to follow recommended procedures every year to prolong the life of the scoreboard and reduce unscheduled service calls. Well before the first game of the season, the scoreboard equipment should be inspected, reassembled, and tested to allow ample time for the return and repair of any malfunctioning parts.
If your school does not have an off-season preventative maintenance program, contact Toadvine Enterprises to determine the best route to protect your vital sports equipment and "keep the ball rolling."
Topics: high school scoreboards, Indiana athletics provider, Kentucky sporting goods, college scoreboards