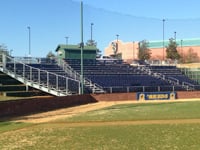 Toadvine Enterprises and Vine & Branch introduce a maintenance and safety inspection program for all of our customers' indoor and outdoor seating and equipment. Installing bleacher or stadium seating is only the start of upgrading your field, court, or venue. It provides a facelift for your space as well as an upgrade in safety.
We take pride in designing functional, safe, and aesthetically pleasing seating, but maintaining those high standards is a big piece to the puzzle. Bleachers should be maintained annually to ensure they remain safe for the wear and tear of large crowds. Often, bleacher maintenance goes overlooked and can cause serious accidents that your school or venue could be held responsible for.
Annual bleacher maintenance is essential and annual inspections are often required by most insurance companies to maintain the standards required for the policy and code. We are fully staffed and can arrange bleacher maintenance at your earliest convenience.
What does the maintenance include?
A thorough visual inspection of your facility and/or designated equipment. We check every nook, cranny, and bolt to make sure the bleachers and facility are ready to go for the next year.
Hands-on Maintenance. Along with our visual inspection, we double-check your indoor and outdoor equipment with a hands-on look. We tighten bolts, replace small parts, lube wheels, among other small items that might not be visible to the naked eye. We want to be sure our customers are safe and confident in all of their equipment.
A full listing of defective equipment or upgrade requirements. As we have said before, we feel that safety is of the utmost importance. That is why we provide a full, detailed list of defective equipment and pieces that need an upgrade. If we feel that a piece of equipment is simply not cut out for another year, we will let you know. We want our customers to breathe easy knowing their equipment meets the highest safety standards.
A written report. After our maintenance inspection, we will provide you with a report noting any safety or standard violations and recommendations for corrective action, so you are prepared for your next event.
Here at Toadvine, we want our customers to exceed the standards of safety and provide the most enjoyable experience with all of their indoor or outdoor seating equipment. Toadvine Enterprises and Vine & Branch are available for yearly contracts to upkeep your maintenance needs, or can come by for a one time visit. Schedule a maintenance appointment today.
Topics: Maintenance Services