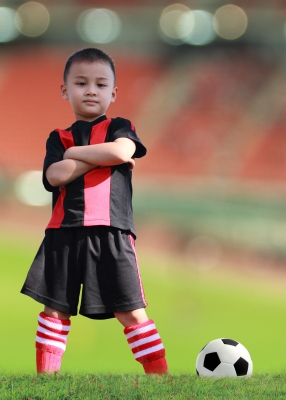 Organized sports is now a trillion dollar business in this country. This is not an exaggeration. Marketers have even begun targeting participants "from the womb to the tomb," peddling products like Athletic Baby and Baby Goes Pro. Gymnasiums have also popped up for newborns with an eye on getting them to the pros, making personal trainers available for babies as young as six months.
Working class families have long seen sports as a ticket to the future, but the push to excel is a little overwhelming. From the time children can pick up a ball, parents see their child as competing against a multitude of other children for a very few select spots of recognition at the top. Getting into the scholarship pipeline has a much higher cost today than it ever has. Simply playing sports for your school doesn't cut it anymore. Parents are signing up for traveling teams, plopping down hundreds for expensive equipment, paying for personal trainers, elite sports camps, lodging expenses of food and hotels while traveling and sacrificing most, if not all, of their leisure time to attend and transport to games.
Dedicate blogger and statistics keeper, Stats Dad, kept track of the rising costs of organized sports involvement and found that the average sports playing youth spent $9,076 in 2010 and that number jumped to $11,704 in 2011.
In his book The Most Expensive Game in Town, Mark Hyman also explores and exposes the countless areas of commercialism and expenditure that takes place surrounding organized sports. As a parent who made many of the same mistakes he describes in his book, Hyman believes as parents we are becoming blinded to the insanity of spending, pushing and promoting our children up the ladder of success.
"We are sitting ducks. In other contexts, we are careful shoppers, bringing a coupon-clippers sensibility to how we buy and from whom. When the subject shifts from sports and our children, that equilibrium is suddenly lost. We have a hard time distinguishing between supporting them and feeding our runaway ambitions for them. The difference isn't apparent until long after the credit card has been swiped," Hyman believes.
Because most families making these lofty sacrifices aren't wealthy, a powder keg of pressure is unleashed on our very young children. That relentless drive from parents may be the reason 75% of children drop out of organized youth sports by age 13.
Although 7.7 million children played on a high school sports team last year and more than three million children between the ages of five and 19 signed up to compete with U.S. Youth Soccer, the national organization that oversees competitive travel soccer, the chances of making it to the pro level are extremely slim. Statistic Brain listed recently that the odds of a high school football player making it to the NFL as 1 in 6,000 and a shot at the NBA, even more unlikely at 1 in 10,000.
"Parents have the best of intentions for their kids," Hyman said. "They want their kids to be successful and succeed, but sometimes we just show it in the wrong way and have our heads down."
Reuters believes that parents should become aware of this growing problem and begin to lower their expectations. Becoming the next Albert Pujols is probably not a reality, but there are some steps families can take to make sports participation less of a strain financially and emotionally by doing the following:
Choose your sport carefully. Weigh the investment of different sports. Golf clubs can cost more than $1,000. A soccer ball, cleats and shorts may only run $150. If your child ends up losing interest, you haven't lost a fortune.
Barter Creatively. Negotiate club fees, barter the costs, pay installments, ask for discounted bulk sports purchases and ask to find out if sports leagues are willing to waive their fees.
Forget the Shine. When it comes to gear, buy used. Play It Again Sports has great prices for gear that will save you a bunch of money if your child continues to pursue this sport. When you finish with gear you're not using, do the same. Sell it. Don't let it collect dust in the garage.
Although involvement and investment trends in organized sports are climbing, with a little awareness and a strong resolve it is possible for parents to say, "the buck stops here."
Image courtesy of Naypong / FreeDigitalPhotos.net
Topics: Athletic Equipment, sports equipment, budgeting for high school sports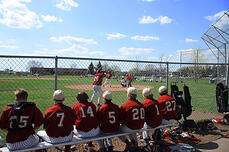 Look at the high school sports programs that attract the best talent around the country. What do 99% of them have in common? Answer: a great sports facility. There is much more to a great sports facility than just attracting great talent. An overlooked benefit is your program's ability to keep the most talented athletes in your community. Parents of the most talented middle school athletes often move to districts where their children have the best opportunities for coaching, development, and potentially college recruiting.
When the "top ten" lists come out every preseason for your state, you can guarantee that the programs on those lists have premium facilities. The other factor that may pull some of the top athletes away is not another school, but a "club league" that draws more exposure than even the top-performing high schools. An article from AthleticBusiness.com says, "Popular club sports such as basketball, swimming, volleyball, hockey, and soccer that target players of slightly above-average ability all the way up to elite status may provide stronger competition." If the competition is higher than that of the state's high schools, that tells you where the college recruiters will look first.
Beyond just adding to your facility with the latest and best products, what can be done to help retain talent? Dialoguing with your community well, and often, about where your program is headed and what the plans are for the near future is a great way of keeping the parents of the younger and older athletes engaged in the programs of their local high school. When the athletic director is a natural leader, and knows how to network, a newsletter is a great way to get people to buy into the dream and the vision. Once you have a base of followers, turn those followers into marketers. Have contests to see who can generate the most Facebook likes for your high school's sport social page or who can sign up the most subscribers for the newsletter. This does not have to be an overwhelming "to-do" where you send out vision statements every month. Make it simple, and tell people where you are and where you are headed. You may be surprised how far this will get you.
Topics: advertising options for high schools, High school Athletic Directors, Kentucky athletic equipment, budgeting for high school sports, Kentucky athletic programs