Interkal LLC is a spectator seating company known for its design innovations as well as its ability to deliver products on time. Interkal has a rich history in spectator seating thanks to its dedicated employees and the fact that of all the products are made right here in the United States. Interkal's engineering advancements have also helped them be a top manufacturer of spectator seating. Because of this, Interkal has created the Self Storing Aisle Rail (
SSAR
), also known as the F-Rail because of its unique design.
Interkal's aisle rails are not your average rail sold by other suppliers. They're different from competitor products because the rail arms store away in the bleacher and do not protrude out into the "traffic" area when the bleachers are in the folded position. Other manufacturers "P-Rail arm" faces outward causing potential hazard to students and athletes when the bleachers are in the folded position.
The SSAR is also a money saver to your school! The SSAR rail is a one-time installment and there is never again any set-up time. This will free your staff from spending countless hours a year on set-up and take-down of aisle rails. The SSAR isn't only for new Interkal bleachers, this rail can be retrofitted to all existing Interkal bleachers.
Check out pictures as well as a short video of the SSAR in action.
Call Toadvine at 502-241-6010 or visit our website to see how we can help save your school money while insuring the safety of your bleachers.
Topics: Interkal, Interkal Self Storing Aisle Rail, Toadvine Enterprises, stadium seating, Bleacher maintenance, seating maintenance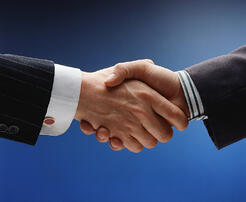 Are you looking for a reliable and truthful company to help you out with sports facilities needs? Toadvine Enterprises is a one-stop-shop for all of your seating, scoreboards, and athletic equipment.
For more than 30 years now, Toadvine has been a full service carrier of the best quality product lines for Kentucky, Tennessee, Southern Ohio, and now Indiana.* Toadvine has been given the ability to choose the best names in the business such as: Interkal Telescopic Seating, Dant Clayton Stadium Bleachers, Porter Athletic, Nevco Scoreboards, List Industries, and many more.
Because Toadvine is teamed up with these great manufacturers, our partnership allows for a quality product with first class service. Toadvine's wide range of products allows us to complete all phases of work, giving the customer less headaches the come with numerous sub contractors, unnecessary time delays, fewer bids, and fewer contracts. There is no job that is too big or too small for us to handle.
Toadvine has adopted the "Whole 9 Yards" Approach when servicing our customers. We are here for you in the beginning and through the end and beyond. Our close-knit team of specialists work hard to get you the results you desire. Toadvine works in a timely manner to get you up and running with your new equipment, no matter the challenge. Toadvine doesn't stop there. We can extend the process through our yearly maintenance contracts on all of your equipment to ensure the safety and longevity of your seating, scoreboards, and athletic equipment.
Browse our website, call us at 502-241-6010, or contact us online to get help with your seating, scoreboards, or athletic equipment.
*Different Manufacturers may not be represented by Toadvine in your Area. Call to find out more.
Topics: Interkal, Toadvine Enterprises, Athletic Equipment, Porter and Gill, Dant Clayton