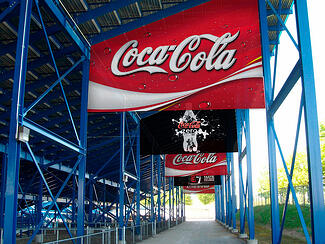 Choosing the right type of sign that gets the most notice is so important for both your business sponsor and your program. Dant Clayton has produced a new light weight sign that will meet both budget and ease of use. These light weight signs are so versatile they can be hung just about anywhere and that gives you more opportunities for raising support than you used to have. Since they are so easy and light you can put signs where you did not have them formerly. These signs are designed specifically to be installed on structures like bleachers and high pedestrian traffic areas.
Advantages of light-weight signage
Cost: Most times these light weight signs from Dant Clayton are less than half the cost of their aluminum counterparts. By reducing the costs by over half, you can put those savings right back into your facility. Still charge your business sponsors the same amount and use those funds for better equipment.
Easily Relocate: These signs are a fraction of the weight of the aluminum signs and can easily be installed, removed, and relocated when you want to use them in other areas. You can remove them each season and protect them from weathering in outdoor facilities.
Wow Factor: These new, light weight signs have amazing color and graphic options. Your supporters will be impressed with the new look and it can transform the feel of your entire facility from ordinary to highly professional. Your sponsors will be impressed with the upgrade in look and feel.
Opportunity For New Funds: Since these signs are such a great improvement, you may want to consider replacing older signage for new fundraising opportunities. Go to your current sponsors and have them renew their support. Take sample signage with you for them to see how much nicer and impressive they are.
Call us today with your questions about Dant Clayton's light weight signage! There is never a wrong time to invest in your program or facility.
Topics: advertising options for high schools, stadium advertising opportunities, Kentucky athletics, Fall sports in Kentucky, football stadium seating, Dant Clayton, Kentucky sporting goods