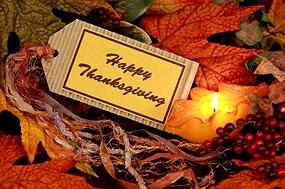 Thanksgiving is a busy time in our markets. High school, middle school, and college athletics couldn't be at a busier time. The two largest sports are overlapping for a bit as they do every year. So when it comes to athletic equipment, scoreboards, and athletic seating, things are hopping. For the other markets we serve like auditorium or church seating, it can be a busy time as well. With things moving indoors, churches and theaters are preparing for busy times.
With all this increased activity, we think it's a perfect time to step back and celebrate Thanksgiving.
It's time to watch rivalry week in football, or to watch your favorite college basketball teams kick off the year. It's time to watch pro football move toward playoff time. It's time to support your high school basketball teams, or continue spurring on your football team if they made the playoffs. It's a time to enjoy a large meal with family and friends. It's a time to relax and rest. It's a time to get a jump on Christmas shopping or to even put up the tree.
During all this time, take a moment or two and reflect on all you have to be thankful for. Let's call it a grateful list. We'll start by saying we're thankful for you, our community that chooses us for all your athletic equipment, scoreboards, and seating needs.
From all of us at Toadvine Entreprises, Happy Thanksgiving!
Topics: Happy Thanksgiving, Toadvine Enterprises, Athletic Equipment, Football season, Basketball equipment, basketball season
About this Blog
Our blog is written for athletic directors and school superintendents of elementary schools, middle and high schools, as well as colleges and universities.
We blog about local sports and industry news, bleacher and stadium maintenance, and current projects we're working on. We encourage you to subscribe in the box above or share this blog with your friends!