Our goal is to provide spectator seating solutions that fully meet the needs and vision of our customer.
Whether its specialty seats for a VIP section, riser-mounted self-rising chairs or traditional grandstand seating, we offer a variety of seating options to best suit any venue.
By coordinating with seat manufacturers like Interkal and Dant Clayton, we are able to integrate multiple seating solutions into our stadiums and grandstands.

Outdoor Chair Seating Options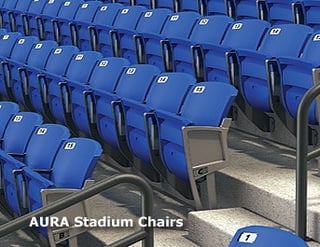 The AURA Stadium Chair is designed for ergonomic comfort and outstanding appearance. The AURA chair provides a strength and durability that can be counted on for many years to come. Available in Slat-back or Solid-back design for outdoor applications.
Features and optional accessories on the AURA chair include:
• Floor or riser mounted stanchions
• Cup holders
• Upholstered onserts
• ADA easy access stanchions
• Seat numbers and row lettering
• End stanchion logos
Colosseum-One - Classic Vented Series - New
Colosseum One


The Colosseum-One is the first ergonomically-designed single-piece stadium chair. This combination of style, comfort, and design offers:
• Reduced maintenance – no moving parts
• Molded-in comfort with lumbar support
• Full-length arm rests
• 9 standard colors
• Optional cup holders
Colosseum II


The Colosseum-Two stadium seat is constructed of think polyethylene resin and gives fans a defined seat space. Designed for comfort and built to last, the Colosseum-Two offers:
• Ergonomically-contoured design
• 8 standard color options
• Optional matching plastic backrest
• Individual advertising/donor plates
• Recessed seat numbers
Outdoor Bench Seating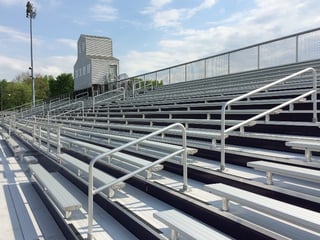 Aluminum bench seating provides a more grandstand look and cost effective seating solution. We offer many styles & sizes, and our standard waterfall bench is recognized as the strongest and most comfortable in the bleacher industry. Our all-aluminum seating installs quickly, easily, and economically in permanent grandstands or bleachers.
Seat boards come with cast end caps and a powder coated finish to enhance the overall look of the grandstand.
Optional aluminum backrests are also available for the next level of spectator comfort.