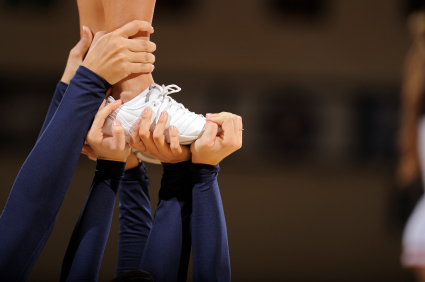 Pom-poms and ponytails make up only a portion of what cheerleaders do today. Standing on the sidelines and chanting a catchy phrase used to get the job done in a crazy fanatical crowd, but today flipping and throwing girls in the air is just part of the routine.
Because of the increase in skill and potentially dangerous stunts cheerleaders are performing today, there is a movement by the American Academy of Pediatrics and other concerned groups to designate cheerleading as a sport to improve the safety rules and create better supervision over the sport.
In a statement released this month, the AAP says that there needs to be better awareness about the rigors and risks of high school and college cheerleading so that cheerleaders can be subject to on-line athletic trainers, limits on practice times, and better qualified coaches.
Although the overall injury rate is lower than in girls participating in soccer, gymnastics, or field hockey, the rate of catastrophic injury which includes skull fractures and paralyzing spine injuries, is much higher.
Some schools have safety recommendations for high school and college cheerleading which includes limiting the height of a pyramid in high school to two and restricting routines including pyramids, tossing, or tumbling to be performed away from hard surfaces. Although these guidelines are helpful, many physicians and team leaders would like to see this mandated to keep cheerleaders safer.
This movement just recently ran into a major obstacle in August of 2012 when the 2nd US Circuit Court of Appeals ruled that cheerleading can not be considered a sport. For cheerleading to be considered a sport, it must have coaches, practices, competitions during a defined season and a governing organization. The key to this ruling was that cheerleaders don't usually have competition as their primary goal, so they cannot be considered a sport.
Health professionals and sports advocates will continue to push for this safety regulation because they see the long-term benefits of it for those involved. For now, cheerleaders will have to develop careful individual standards.
Topics: Toadvine Enterprises, Kentucky athletic equipment, cheerleading a sport, cheerleading equipment