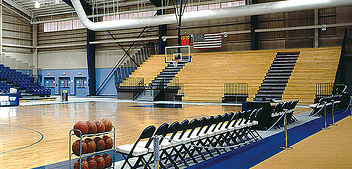 Wooden bleachers in a gymnasium convey a traditional, classic look, one of durability and rich construction. Wood bench bleacher seating is generally constructed of yellow pine lumber in a telescopic layout. Wood bleacher seating greatly enhances the appearance of any gym or facility.
Additional features of wooden seating includes:
Grade BB southern yellow pine wood
Laminated edges glued and finger jointed on wood boards for greater strength and durability
Standard wood thickness of 3/4"
Sides and edge boards finished on both sides
Seats and risers firmly secured to a welded seat support
Triple-sanded and sealed with moisture resistant urethane
To learn more or request a quote, click here and fill out our short form. Someone from Toadvine Enterprises will get back with you soon.
Topics: basketball bleachers, Toadvine bleacher seating in Louisville, wooden bleachers
About this Blog
Our blog is written for athletic directors and school superintendents of elementary schools, middle and high schools, as well as colleges and universities.
We blog about local sports and industry news, bleacher and stadium maintenance, and current projects we're working on. We encourage you to subscribe in the box above or share this blog with your friends!