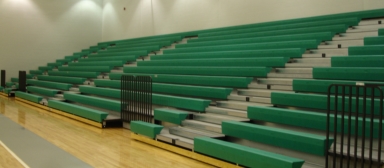 Are your bleachers looking old or dirty? Do they have problems going in and out? Are they safe and secure? If you answered no to any of these three questions, your bleachers may imply a safety risk to spectators.
The school year is ending and summer is the perfect time to look at Toadvine/Vine & Branch bleacher maintenance, cleaning, and renovation services. Fill out the small form to have a bleacher maintenance professional give you a call.
The NFPA guidelines require all bleachers to be maintained by someone who is a certified bleacher technician. Toadvine employees multiple technicians to help service your bleachers and make any necessary recommendations to keep your bleachers in a safe operating manner.
After each bleacher maintenance and inspection, our sales rep will give you a written report of the problems you may or may not have. This report, which shows your bleachers have been inspected by a certified technician, can be turned in to your insurance company and can help you save money on your insurance costs. Want to find out more ways Toadvine has helped save people money on insurance for their sports complex? Give us a call at 502-241-6010 and ask for one of our representatives Don't believe us? Call your local insurance provider to see how certain products can help you save money on your insurance.
Students are gone for the summer and gym use is down to the minimum, call Toadvine today to schedule your maintenance contract before school starts back in August. Summer slots are filling up, call now.
Topics: outdoor stadium seating, Toadvine Enterprises, Bleacher maintenance, indoor bleachers