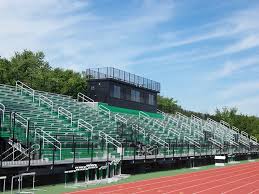 Accommodating crowds from just a few hundred spectators to more than 10,000, the configurable steel and aluminum I-Beam Grandstand bleacher seating can be built anywhere, for any sport. It is designed to be permanently anchored to reinforced concrete columns or piers.
The seat planks have a clear, anodized finish. Footboard planks are mill finished. The understructure of this seating system consists of welded steel beams, stringers, and braces, made from extruded aluminum. The components used in the I-Beam understructure go through a galvanized process which means they are "hot-dipped" in a molten bath of zinc which coats the steel with a thin layer of protection against rust and corrosion. The understructure offers more versatility for a variety of uses from restrooms and concession stands to storage, dressing facilities, walkways, and more.
This diverse seating system can also be designed with a variety of decking, seating, and railing options to suit your individual needs. Limitless design options can include:
Handicap Accessible Seating
VIP Suites/Press Boxes
Colored Risers
Freestanding or Integrated Roof
Drip Shield with Gutters and Downspouts
This steel-framed structure offers the ideal combination of safety, aesthetics, functionality, and affordability for a wide variation of facilities from high school and collegiate sports to entertainment venues and much more.
Contact Toadvine today if you would like a quote or want to learn more about the I-Beam Grandstand bleacher.
Topics: bleacher design, high school stadium seating, football bleacher
Whether you are trying to "tackle" the planning of a new football stadium, or conducting a major overha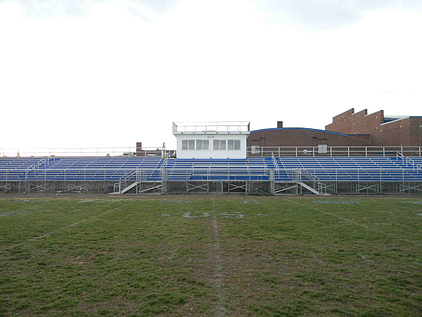 ul on an outdated one, Toadvine Enterprises has a variety of bleacher seating options to accommodate fans and spectators alike.

For over 30 years, Toadvine Enterprises has offered the best and most cost effective football bleachers to many facilities around the Kentucky, Indiana, Tennessee, and Ohio area. With our focus being on quality and customer service, we guarantee satisfaction for our clients and offer quality products that will represent your school with pride. Here are the seating options that we provide:

The I-Beam Grandstand football bleachers are made with an enduring steel frame, stunning appearance and cost effective price. They are a perfect match for high school and college stadiums desiring seating for 100-10,000 fans.

The Alum - A - Stand is known for its durability and strength. These bleachers offer a variety of arrangements from portable to larger stationary bleachers. Unlike steel framed bleachers, the aluminum tube and channel under structure is rust-resistant. With its wide range of customizable color options, this bleacher system is a perfect seating solution for your school.

Hybrid Precast Stadium Systems
The hybrid precast stadium system is a patented steel seating structure that is economical and made with lightweight precast concrete and is completely customizable to your school's needs.

Angle Frame Bleachers can be used in a variety of ways for your seating needs. From fan bleachers on the football or soccer field, spectator seating at your tennis court and baseball field, to additional resting spots at your local recreational park, Toadvine can meet all of your outdoor seating needs with our customized Angle Frame Bleacher. This bleacher can be customized with many options and constructed to seat anywhere from 20-600 spectators.

Custom Seating
When your school requires a seating system that uniquely satisfies your needs, Toadvine can provide custom bleacher options that allow you create a stadium that is specific to your individual specifications. Some of the additional options Toadvine provides are:
arm rests
cup holders
color options
varying spacing options
liquid drainage system to prevent damage
aluminum backrest
self-rising chairs
specialty VIP section
Contact Toadvine today to discuss how we can best accommodate your school's seating needs and get your stadium plans off the ground and running.
Topics: bleacher design, football stadium seating, football bleacher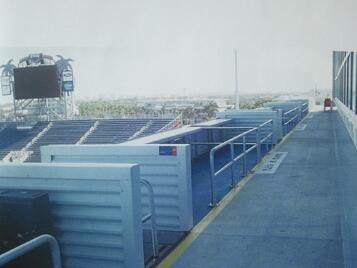 Loge boxes are areas of private seating that typically have an open space for mobile seating like folding chairs, but are bordered by railing. They give the spectator a more flexible viewing experience along with a little more privacy during the event. They also have the conveniences of drink rails, defined private spaces, and can be customized to your objectives. If you are a high school or collegiate sports program, you may wonder why you need something like this. Here are just a few examples of why loge boxes can really help your program.
A Way To Honor Special Guests
If you have faculty that you want to honor during events or during athletic matches, a loge box makes great sense for you. A loge box can be used at every event as a way to honor teachers, donors, sponsors, faculty, visiting governing officials, returning alumni, and others.

Create Option Between Luxury Suites and Club Seating
If you have luxury suites you can use loge boxes as the middle option and as a way to increase your revenue. If there are people reserving the luxury suites there will be a portion of spectators who would find loge boxes to be the price point that they are comfortable with and would be excited to reserve their own box for the season. If a business reserves the box you can suggest ad placement there in addition to or included in the price.

If Luxury Suites Are Too Nice
If your program is not at the point of having spectators open to the amenities of a luxury suite, loge boxes can become your high end offering to sponsors and spectators willing to spend a little more on their sports experience. Loge boxes do not have to be much different than the standard club seating. They can be different enough to fill them, but not too different that they don't fit into the environment of your overall facility.

Contact Toadvine Enterprises today with your questions and let us walk you through the benefits of loge boxes for your program. We look forward to your call.
Topics: bleacher design, football bleachers, bleachers, baseball bleachers, football bleacher, athletic bleachers, loge box, loge boxes, loge box seats, bleacher