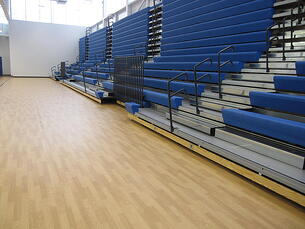 Whether you are purchasing bleachers to add that final finishing touch, or you want to keep your facility safe and secure, it is important for all sports facilities to check with their local code officers to be sure that any bleachers they purchase will meet recent safety regulations. Code sometimes dictates a handrail in order to comply with local code regulations. There have been instances recently of sports facilities upgrading their entire bleacher seating system simply because the railings did not meet the latest code. Insurance companies and risk management will require that.
If you are searching for railing systems to install in your sports facility, here are a few of the options available:
Fold and Stow Center Aisle Hand Rails. No tools required. Stores on the deck in closed position and rail rotates and snaps into place.
Self-Storing End Rails. These stylish rails are designed to meet the most stringent codes for rail loading and sphere passage.
Fixed Front and Rear Rails. These rails are an ideal solution for truncations, elevated front aisles, free standing, portables and reverse fold systems.
Center Aisle Hand Rails. Safety rails in this system include fixed, folding and removable options and feature a fully closed, safe design.
Contact Toadvine and let us quote you a price on adding rails to your sports facility.
Topics: bleacher design, basketball bleachers, bleacher railing systems
About this Blog
Our blog is written for athletic directors and school superintendents of elementary schools, middle and high schools, as well as colleges and universities.
We blog about local sports and industry news, bleacher and stadium maintenance, and current projects we're working on. We encourage you to subscribe in the box above or share this blog with your friends!