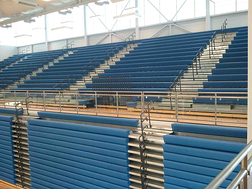 Fans and spectators have been utilizing telescopic bleachers for their seating choice in facilities and gymnasiums for more than 70 years. The practical design and flexibility of this seating has kept the telescopic bleacher a popular choice in many arenas.
Each telescopic bleacher project is custom made, adapted to the dimensions available in the indoor facility. Mainly used in indoor facilities to increase seating capacity, this product adds a series of bleacher modules that can be folded to occupy very little space when not being used.
As the top provider of telescopic bleachers for more than 30 years, Toadvine Enterprises offers several different types of telescopic bleacher seating that will meet the needs of your facility with a quality product and exceptional customer service. Here are the different varieties of telescopic bleachers we offer and a description of how they might benefit your organization.
Reverse Fold Systems. This type of telescopic bleacher is designed to utilize the space behind the bleacher stack for other activities when the bleacher is not in use. These systems are recommended to have up to 18 rows.
Forward Fold. The most common telescopic seating system is the forward fold bleachers which open in the forward direction. These systems are available in up to 24 rows.
Recessed Systems. The best feature of the recessed bleacher system is the fact that they require minimal clearance for a nice comfortable fit under a balcony overhang. This type of system is helpful when you wish to utilize floor space when the bleachers are stacked away.
Mobile Systems. The advantage of using the mobile system is that they can be used in one part of a building and then transported and stored in another. Portable hydraulic dollies are provided with the system. These systems are available with up to 14 rows.
Free-Standing Floor-Attached Systems. When bleachers are required to stand away from the wall, or when the facility restricts wall attachment, these bleachers are ideal. Contact us for details on row restrictions.
All of our Telescopic Bleacher Seating systems feature outstanding durability and are built with the safest and most secure under-structure in the industry, providing great comfort and a stunning appearance. Here are some other options available to you at Toadvine when you select telescopic bleacher seating:
Built to last
Wide range of colors
Built to fit a variety of facilities
Self-storing aisle rails
Power options
Options and Accessories
Contact Toadvine Enterprises today to find out what telescopic bleacher system is best for your facility.
Topics: stadium seating, Stadium seating maintenance, Telescopic Bleacher Seating, Reverse Fold Systems
Before the first buzzer of the game sounds and players begin to hustle on the court, they have been made keenly aware of the risks that go along with playing organized sports. Just as those risks are legitimate, schools and sporting facility managers are becoming even more alert to risk off the court. Great attention has been brought lately to the risk involved to spectators and fans sitting on the sidelines. More focus than ever surrounds the liability that sports facility owners and schools face due to faulty or stray equipment and accidents that can occur while attending a sporting event.
In order to protect your school or facility against devastating injuries or accidents, strong consideration should be paid to obtaining liability insurance. Liability insurance in sports acts like an umbrella protection for everyone involved in the sporting event, including spectators who may get hit by a wayward ball or fall on your property due to an unstable bleacher issue.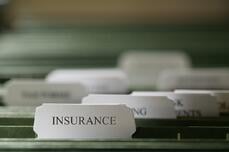 Besides the benefits of providing medical and legal protection if an incident should occur, liability insurance includes sports equipment insurance which gives support for repairs on equipment and facilities that may have been damaged during a game or practice. Facilities can request reimbursement for repairs or purchase brand new machines or equipment.
The insured can also take advantage of this insurance to request repairs or renovations done on bleachers, fields, sound systems, lights, and food services. Liability insurance also covers repairs, renovations, and replacements on damaged sports equipment and facilities after a fire, flood, or earthquake.
Insurance is often referred to as one step in the risk management process. By securing liability insurance for your sports facility, you are managing the probability that risk will come your way and taking steps to protect your employees, players, and owners from further damage.
Topics: Toadvine Enterprises, bleacher inspections, Bleacher maintenance, Stadium seating maintenance, Insuring Your School Against Liability
Within the last couple of years, an influx of stories has flooded the sports world, highlighting the potential dangers that stadium seating and bleachers pose to sports fans and onlookers. Just recently 30 NASCAR fans in Orlando, Florida were injured in the stadium as a result of a massive wreck on the track that spilled over to the stadium. Many people affected by this incident are calling the accident "gross negligance." Although schools and universities aren't equipped with this identical form of stadium seating, the question fans of any spectator sport are beginning to ask themselves is, "are sporting facilities taking action to properly prevent risk?"
The parents of a 14-year-old cheerleader in Pennsylvania are asking that same question to the Fayette County school board after their daughter was crushed under the school's bleachers and sustained broken bones, nerve damage, and facial injuries. The high schooler was practicing in the school gym with her squad when coaches asked the cheerleaders to push back the bleachers into their storage poisition to gain more practice area. As the group pushed back the bleachers, they collapsed, pining at least two cheerleaders underneath. The parents contend in their lawsuit that school district officials should have known that these bleachers posed a potential hazard. The school system settled with the family for $235,000.
A $1 million lawsuit was filed on behalf of a five-year-old Tennessee boy who was attending a basketball game and attempting to climb down the steps from the mezzanine level to the bleachers. The boy slipped, slid under the railing and fell approximately 10 feet onto the floor on his head.
This lawsuit alleges that the irregular height of the steps connecting the bleachers to the mezzanine and the improper design of the railing contributed to the accident. The plaintiffs contend that the equipment was either poorly manufactured or installed at a later time. School officials admitted that other accidents had occurred as a result of using those same steps and agreed to make improvements to their equipment and pay an undisclosed amount to the family of the injured little boy.
As evidenced by these events, stadium seating maintenance and inspection is critical. Without it, serious, even fatal injuries can occur costing your school thousands of dollars and creating years of suffering for unsuspecting patrons.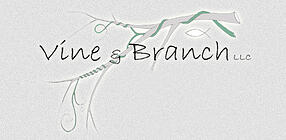 Toadvine Enterprises is happy to introduce our maintenance and safety inspection program, Vine and Branch, an inspection program for all indoor and outdoor seating equipment.
Using certified technicians, we can provide the annually-required maintenance inspection on all seating equipment and yearly contracts. Keep your maintenance records up-to-date and prevent the tragedies and liability that can occur when you don't. Fill out our Maintenance and Safety Interest form and we will get back with you quickly to discuss your needs.
Topics: Toadvine Enterprises, Stadium seating maintenance, grandstand maintenance, Vine and Branch