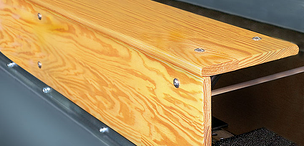 In 2012, there were an estimated 26,700 bleacher-related injuries, with 5,620 of these involving children under 15 years old. Five of these children died as a result of these falls. All of these incidents resulted from a person falling from or through bleachers onto the surface below. Federal legislation to tighten safety guidelines has not been universally supported, meanwhile, bleacher-related injuries continue to mount.
In order to guard against the dangers of faulty bleachers, an annual yearly inspection is required. The Consumer Product and Safety Commission (CPSC) guidelines recommend conducting regular inspections no less than four times a year with documentation included that provides a date and signature of the supervisor performing the inspection.
According to the CPSC, the objective of regular inspections is to "identify any structural damage or degradation that could compromise safety." Keeping spectators safe by having regular bleacher maintenance and inspection performed is a first step in preventing accidents and liability issues. Toadvine has an experienced and knowledgeable team of inspectors who know code expectations, and guidelines for inspecting bleachers. Prevent accidents and injuries by having our experienced team of inspectors take care of your bleacher inspections and maintenance year-round.
To ensure that your seating is safe, Toadvine will perform routine maintenance on the following areas:
Make sure stairs, ramps, and aisles are dry, clean, and free of debris.
All stairs should be equipped with handrails and tread to prevent falls.
Loose flooring should be fixed to prevent tripping hazards.
Seats should be free from splintering wood and loose screws and hardware.
Safety rails should be installed on the back of bleachers to prevent falls.
If your bleachers are overdue for routine maintenance, contact our maintenance department we'll set up a time to come to your facility. Toadvine Enterprises is here to help your schools and organizations provide a safe environment for fans, spectators and players.
Topics: Bleacher maintenance, grandstand maintenance, bleacher safety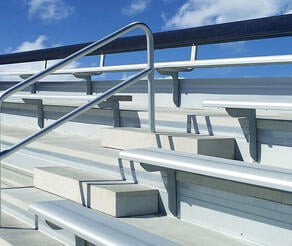 Bleachers are the most affordable form of mass seating and are used by schools around the country. However, this type of seating can come with a larger price tag if not maintained properly. With schools getting older and budgets sometimes getting smaller, bleachers in gymnasiums and stadiums are oftentimes ignored and do not go through necessary safety and maintenance checks. While the seating in your school remains the same, safety requirements continue to change.
The Problem Exists
Over 15,000 children under the age of 15 are injured each year by bleacher seating. This has prompted many state lawmakers to publish guidelines on retrofitting and updated existing bleachers to help lessen this number and prevent children from injury. These guidelines include a required maintenance inspection every year to ensure that your indoor or outdoor seating is safe and up to current regulations.
Is Your School Liable?
The truth is that if a school has not had its bleachers inspected by a certified service technician or has not done the required maintenance, then that school is likely to be found liable for any injury. The problems that cause these injuries are not always easy to see. Some of the issues that create a liability for schools include:
Gaps in the floor or sides
Poorly secured guardrails or handrails
Lack of required guardrails or handrails
Lack of required safety signage
Poorly secured bleachers
Failure to obtain maintenance inspection
Slippery areas either dry or wet
Debris or overhanging trees
If an accident were to occur on your indoor or outdoor bleacher seating, your school could be found liable for negligence. If a public school has events, such as sporting or music events that require school seating to be used, then the premises of the public event could be found liable. In a case where a school is privately owned, the owner of the property could be liable of an accident.
What Can Your School Do
In order to protect your school from liability issues and, more importantly, ensure the safety of your students, you have to make sure your bleachers are regularly maintained. When was your last inspection? Are you due for another one?
Toadvine Enterprises offers a maintenance and inspection program that takes the hassle of maintaining bleachers off of schools. Toadvine also offers yearly contracts to ensure that you never miss a required inspection. Learn more about our Vine & Branch maintenance and inspection program here.
Topics: bleacher design, Bleacher maintenance, bleacher safety