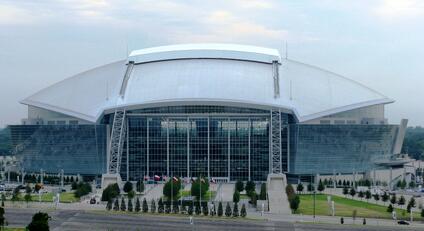 On Monday, April 7, the best two teams in the country will take center court at ATT Stadium in Arlington, Texas and battle for the title of NCAA Champions 2014. Much preparation and sweat, practice and dedication have gone into this moment that will crown "the" best college basketball team in the country.
Although much may be known about the final two teams and the strength of their record, the team performance and their background of their coaches, little may be known about the home to this game of powerhouses, ATT Stadium. Before the tip-off begins for this winner takes all tournament game, here are some facts about the stadium that we found interesting:
Everything at ATT Stadium is "Texas sized"
ATT Stadium is also home to the Dallas Cowboys
When the retractable roof at ATT Stadium is enclosed, this facility garners the honors of largest enclosed NFL stadium
For major events, ATT Stadium is expandable to accommodate 100,000
ATT Stadium boasts the world's largest, and very first center hung HDTV video boards, measuring 160 feet by 72 feet at a cost of $40 million
This video board contains 30 million light bulbs and 25,000 square feet of video displays
Each of the two center-hung video screens stretches from one 20-yard line to the other and weighs 1.2 million pounds
Total square footage of the stadium is 3 million square feet
The entire Statue of Liberty and its base could fit inside the stadium with its roof closed
Dallas-based ATT paid $17-19 million yearly for an undetermined amount of time to claim naming rights
Average ticket price for all events in 2008 was $84.12
The facility was called Cowboys Stadium until 2013
ATT Stadium cost $1.4 billion to build
There are 3,100 pieces of food service equipment in the stadium
The retractable roof has 128 total motors used to operate it
There are 41,000 light fixtures in the facility and 3,000 televisions
On game day, the ATT Stadium uses more electricity than the entire country of Liberia
With Texas-sized design and a multi-purpose plan, the ATT Stadium is a mega-center built for thousands of sports and entertainment fans hoping to cheer on their NCAA college powerhouse or pull an upset with a scrappy Cinderella team. Either way, the madness of March basketball promises to be a "larger than life" competition for the lone star state and millions of adoring fans.
Topics: NCAA facts from toadvine, basketball season, ATT Stadium