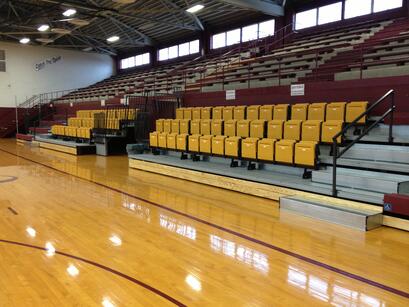 Knowing that the fans at your sporting event will be on the edge of their seat—literally—it is important to provide durable quality and yet comfortable seating for them to enjoy the game.
Indoor chair seating provides a level of comfort for fans that supports your audience and also enhances your space. Indoor arena chairs are designed with premium materials, durable construction, and rigorous quality control. These sturdy, fixed seating chairs are designed to meet stringent standards for audience safety, durability, and also provide easy maintenance.
Fixed to your indoor arena wall in banks, telescopic platforms can include stadium chairs that can be upholstered or constructed from polymer. These chairs are designed to meet any unique seating challenges of a small to mid-size entertainment facility. Telescopic platforms can also incorporate the following features:
custom and variable rise
tapered sections
extruded aluminum decking
folding platform chairs
By choosing indoor arena chairs for all or part of your sports facility, you offer patrons a private viewing experience that is complemented with separating arm rests, flip down seats, and an ergonomically designed single piece seat. They can be installed in a designated section to provide VIP seating for parents, boosters and faculty or along an entire sideline for the home crowd.
For more information on how you can add stadium seating to your sports facility, contact Toadvine Enterprises and a member of our team will be glad to give you a quote.
Topics: seating concepts, basketball bleachers, indoor bleachers