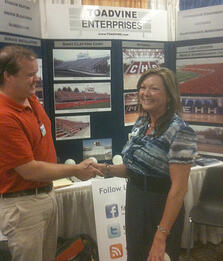 The Kentucky School Plant Management Association's (KSPMA) 22nd annual conference is scheduled for October 25-28, 2011 in Lexington, KY.
The event will take place at Embassy Suites at 1801 Newton Pike.
KSPMA is a state organization that is dedicated to promoting and enhancing the educational process through proper management practices related to school operations and maintenance.
The annual convention is held each fall in different cities associated with KSPMA. From this conference you can expect to:
See the newest equipment and materials.
Discuss common and not so common problems in your field.
Receive the latest information on pertinent topics from professionals.
Enjoy a variety of social activities.
Matt, Mike, and Chris will be attending the event to answer questions about maintenance services as well as provide information related to indoor and outdoor athletic equipment, indoor seating, outdoor seating, and more.
Exhibitors can pre-register on KSPMA's website. If you're planning on attending as a guest, please stop by our booth and say hi. We'd love to connect with you!
Topics: Maintenance Services, KSPMA annual conference, trade show reminder, Toadvine Enterprises, Kentucky athletic equipment, Athletic Equipment, Bleacher maintenance
About this Blog
Our blog is written for athletic directors and school superintendents of elementary schools, middle and high schools, as well as colleges and universities.
We blog about local sports and industry news, bleacher and stadium maintenance, and current projects we're working on. We encourage you to subscribe in the box above or share this blog with your friends!