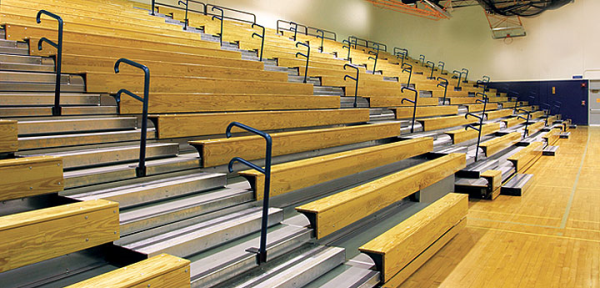 Bleacher and stadium seating liability continues to be an issue due to the rise in lawsuits from bleacher accidents brought against schools. Keeping spectators safe by having regular bleacher maintenance and inspection performed is a first step in preventing accidents and liability issues.
The checklist below lists action items you can do to ensure your seating is safe in between scheduled maintenance. Please contact Toadvine Enterprises if you need your bleachers or stadium seating inspected and maintained.


Make sure stairs, ramps, and aisles are dry, clean, and free of debris.
All stairs should be equipped with handrails and tread to prevent falls.
Loose flooring should be fixed to prevent tripping hazards.
Seats should be free from splintering wood and loose screws and hardware.
Safety rails should be installed on the back of bleachers to prevent falls.

Toadvine Enterprises is here to help your school provide a safe environment for fans and players. Contact us today if you need a seating quote of if you have questions about the safety of your school's bleachers.
Topics: Kentucky athletics, Bleacher maintenance, sports facility maintenance, Seating inspections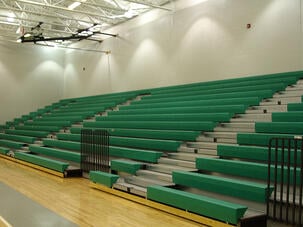 Now is the time to be inspecting your bleachers and scoreboards. You do not want to be midway through the season and have a problem that delays your season, forfeits a match, or results in an injury. Toadvine Enterprises and Vine and Branch have developed a maintenance program that inspects your equipment using fully manufacturer-certified technicians. Using certified technicians to inspect your equipment ensures the safety of your seating.
The Maintenance Program
A thorough visual inspection of your facility and/or designated equipment
A full listing of defective equipment or upgrade requirements
A written report will be provided to you upon inspection completion noting any safety and/or standard violations with recommendations for corrective action
According to the National Fire Protection Association (NFPA), all outdoor grandstands and folding or telescoping seating must be inspected annually by an engineer, registered architect, or manufacturer-certified inspector. It just makes sense to have your equipment inspected by someone who is an expert of that equipment.
That is where Toadvine Enterprises comes in. We live and breathe seating and sports facility equipment, so when we finish inspecting your seating, let us inspect your scoreboards and other facility equipment. You save time and money by combining these services and you can take advantage of our expertise in this industry. We can share all the latest benefits of new products and help you extend the life of your existing equipment. Give us a call today to schedule your bleacher inspection. Toadvine Enterprises (502) 241-6010.
Topics: scoreboard inspections, bleacher inspections, sports facility maintenance, football stadium seating, Kentucky equipment maintenance