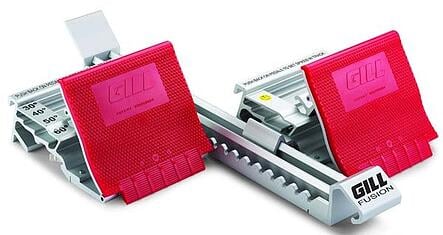 If you have seen the epic film, Chariots of Fire, you may recall the scenes where the runners are preparing for the start of the race. The runners kneel on the ground with little trowels or spades and prepare the ground. They would dig small holes for their feet to gain traction and would not slip. So much has changed from the early 20th century for track and field equipment, including starting blocks.

The first starting blocks emerged in the late 1920s and became a standard and accepted practice in the 1930s. By 1937, the use of starting blocks became mandatory so runners could not have any unfair advantages and all the runners would have "a fair start." The earlier starting blocks would be large enough that the entire length of the runners' feet could rest on the block, but in the early 1970s, starting blocks were modified so the heel would overlap the top edge of the block. The thought behind this was an increased burst because of the calf muscle was more fully engaged.

The former blocks were referred to as high blocks and the shorter versions are commonly called short blocks. There has been a switch back and forth to which are used in recent years, including in the Olympic games. The science behind the start is getting more sophisticated all the time, and although technology is always improving, the most important thing you hear runners saying is they need to feel comfortable in the starting blocks.

Toadvine Enterprises offers the full line of Gill track and field products. We have many great options for starting blocks in every price range, including Fusion, National, Scholastic, Moye, All Surface, and the all-important transporter starting block carts to protect your investment and make moving and storing them easy and safe.
We are at the front of the science of speed and are helping schools get "faster starts through advanced technology." Call us today with your track and field equipment needs. Toadvine Enterprises (502) 241-6010.


Topics: Toadvine Enterprises, Track and Field Equipment, Kentucky athletics, Gill Athletics, starting blocks
Porter has announced its new line of winches that can accommodate your curtain and gymnasium dividers. Tired of the struggle of closing and opening curtains in your facility? These improved winches are the perfect solution. They are easy to use and designed to work with all of Porter's existing control systems.
The 00709000 is a listed winch that comes with a full 5 year warranty. This winch will be able to span the current range of Porter backstops up to 40' attachment height. This winch has the ability to be raised or lowered manually with a battery-operated drill or socket for install or emergency situations. Porter's goal is to be able to continue to increase its winch line so it can grow the custom engineered product offerings and capabilities. Keep your eyes out for winches that will allow them to design bigger, more unique systems.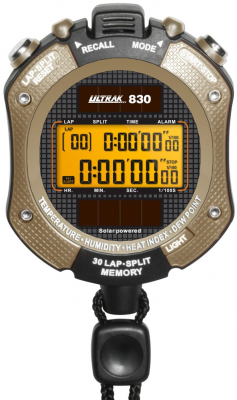 Gill Athletics has an entire web page of new products, and one specific product we wanted to highlight is the Ultrak 830 Heat Index. Coaches who are tracking the actual heat index on the field can measure, in real time, if the conditions are safe for the players. This is a great tool and should be a part of every coach's on-field toolbox. With record-setting temperatures this summer, coaches are taking their role seriously to keep players safe. This new tool from Gill Athletics should be a must for every athletic director.
Additional features of the Ultrak 830 Heat Index:
• Accurately calculates temperature, humidity, heat index, and dew point
• 30 dual split recallable memory
• Measures to 10 hours with 1/100 second resolution
• Presettable countdown timer with auto repeat function
• Time, calendar, and alarm
• LED backlight
• Solar powered with back-up lithium battery
• Water resistant
• Five-year warranty
Let us at Toadvine Enterprises know if you'd like more information on either of these new products.
Topics: Toadvine Enterprises, Kentucky athletic equipment, Kentucky athletics, Porter Athletics, Gill Athletics, football equipment