Toadvine's experienced sales team and project managers will work with you from start to finish on all aspects of your outdoor grandstand projects. Be sure to visit our Portfolio to see our many Grandstand projects.
I-Beam Steel Grandstands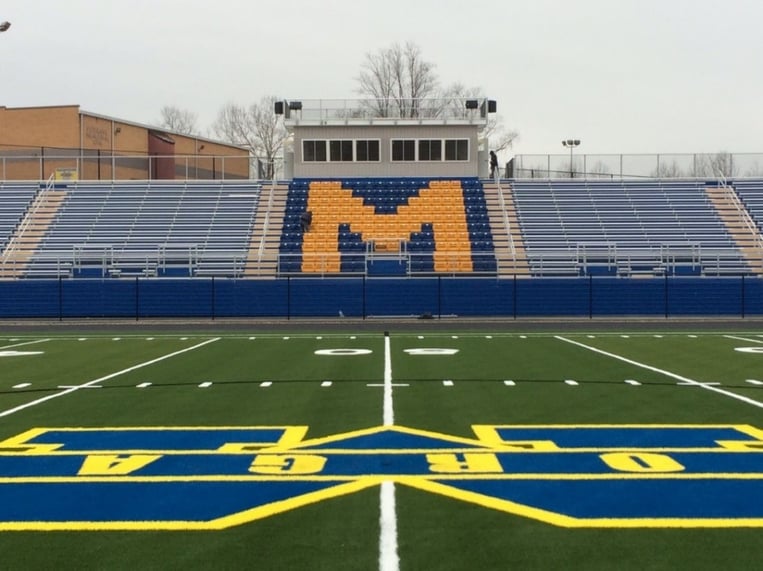 I-Beam permanent grandstands provide an excellent spectator seating solution and are ideal for hillside construction sites. This versatile design is available with a variety of decking, seating and railing options to best meet your individual needs. And we will work with you to develop custom stairs and ramps to meet all of your access, ADA, and site requirements.
I-Beam grandstands are offered with a choice of finish applications and options that include press box support structures, aluminum seat boards, foot boards, riser boards, VIP stadium chair seating and railing.
The steel beam understructure is offered with either a galvanized finish or a powder coated finish. Galvanized steel is the most durable, provides the highest level of metal protection available and is the first choice for many outdoor facility owners.
The powder coated finished understructure allows you to customize your grandstand to match team colors or simply increase the visual appeal of your spectator seating system. Seats, back rests and risers may also be powder coated.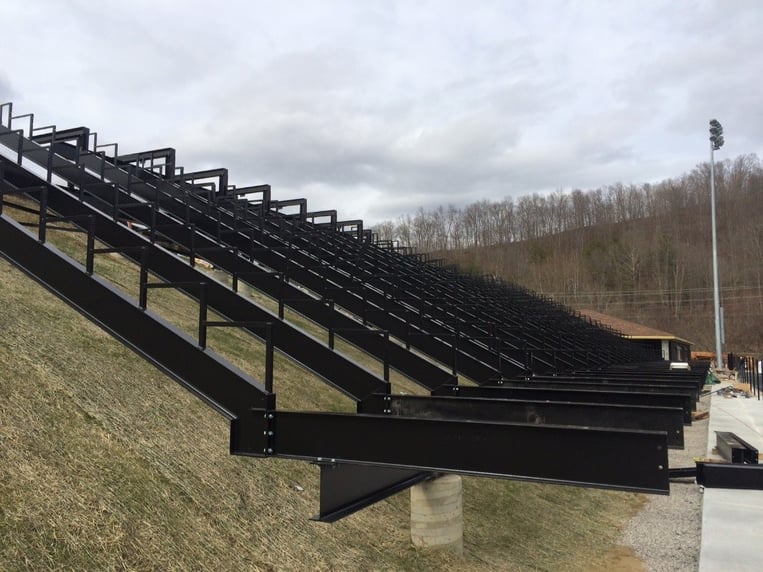 Decking Options
Double Locking Welded Deck
• Offers maximum water control, strength and durability
• Secured to steel with double lock design
• Used by the NFL, MLB, MLS, universities, colleges, and high schools as a premier I-Beam solution
Interlocking
• Any stadium layout can be configured with our interlocking system
• Custom design for angled seating sections, variable riser heights, tread depths, platforms and walkways
• Available in 3 finish options – mill finish, slip resistant (SRD), anodized SRD
Basic Low Cost
• Provided in fully-closed or semi-closed
• Limits trash and debris from falling to ground under bleacher
• No water control
Alum-A-Stand Bleachers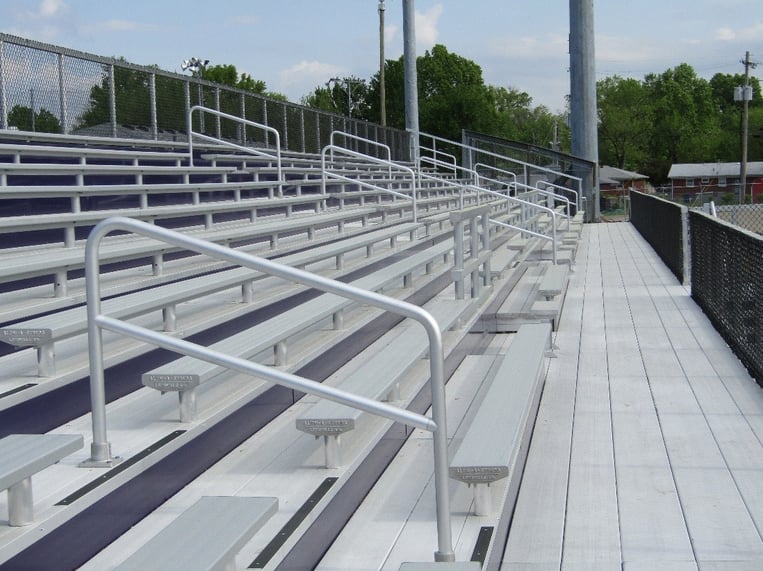 Another premium frame option for outdoor grandstands is the Alum-A-Stand bleacher solution provided through Dant Clayton. The Alum-A-Stand system is a popular choice of our customers and has been engineered for maximum strength and durability.

The Alum-A-Stand difference:
• Provides long-term durability, safety, aesthetics, and value
• 5 times the strength of aluminum angle frame systems
• Won't rust like steel angle frame systems
• Powder coated riser boards offer enhanced aesthetics from both the front and rear of the bleacher
• Fully closed decking system virtually eliminates underside maintenance
• Tube and channel understructure offers increased strength and durability
• A full range of color and finish options
• Standard 40" elevation for the best bleacher sight lines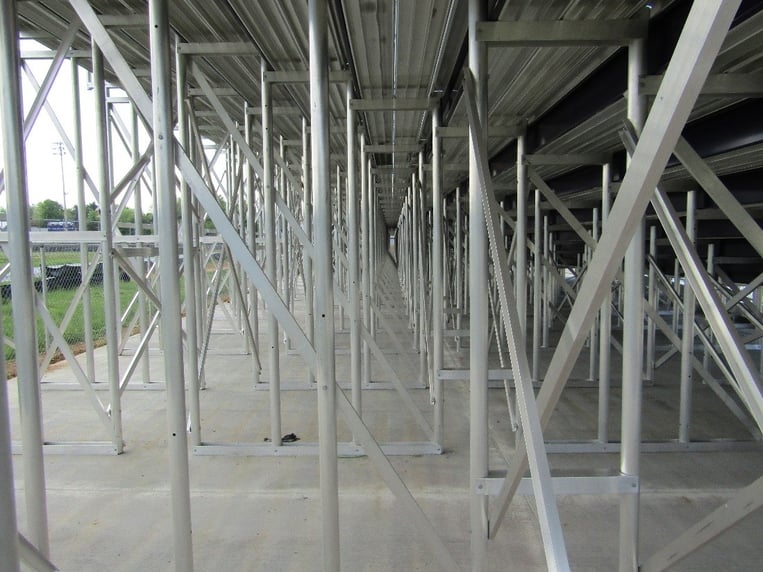 Decking Options
Interlocking
• Any stadium layout can be configured with our interlocking system
• Custom design for angled seating sections, variable riser heights & tread depths, and large platforms & walkways
• Available in 3 finish options – mill finish, slip resistant (SRD), anodized SRD
Basic Low Cost
• Provided in fully-closed or semi-closed
• Limits trash and debris from falling to ground under bleacher
• No water control