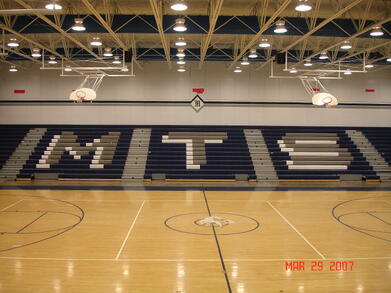 The match between the Cards and the Cats in the Sweet 16 wasn't the only heated event to hit the hard wood this basketball season. At Toadvine Enterprises we understand that stiff competition can leave fans on the edge of their seats, literally, and when their enthusiasm explodes you need an arena that's equipped for those crazed fans and rowdy events. Whether your indoor arena will need to accommodate competing rivalries or more sophisticated assemblies, Toadvine has a variety of seating options to fit your needs. Here are some of the various seating options you can choose when designing or updating your facility.
Telescopic Systems. This is our most popular type of seating and is designed to offer flexibility to fit a variety of facility configurations. The forward folding bleacher systems open in the forward direction and utilize either free-standing floor attachments or wall attachments. The reverse fold telescopic system is helpful when space behind the bleachers is desired for other activities when the bleachers are not in use. The recessed system of seating requires a minimal clearance to fit conveniently under a balcony overhang and maximizes usable floor space as bleachers are stacked. Mobile systems, or single sections of bleachers, can be used in one part of the building and stored in a completely different area. Free-Standing Floor-Attached Systems are utilized where bleachers are required to be located away from walls or when wall construction prohibits attachment.
Sculptured Seat Modules. These one-piece, injection-molded, high strength polyethylene seats are made with molded-in solid color which will not fade or wear out. These seats are easy to maintain and will not wear out. They will not stain or splinter.
Contoured Seat Modules. For added comfort, appeal, and endurance, this seating is hard to beat. These waterfall designed seats are highly functional and visually appealing. The angled seats allow for 30% more leg room than competitive products which allows fans and spectators to move legs more freely.
ComfoBack. For a luxurious seating option, the ComfoBack seating is ergonomically designed for maximum spectator comfort. The backrest on this seat provides superb comfort and convenience for facility personnel with a fast and effort-free set-up.
Classic Wood. For the more traditional type arena, this sleek wooden bench seating, constructed of southern yellow pine, is the standard in the telescopic industry. These wood seats and front riser boards are finished in classic style to enhance the appearance of your arena.
Platform Chairs. The platform chair is a great way to meet the needs of a diverse, multi-purpose facility. The platform and PC chair combination is perfect for any auditorium, sports arena, or assembly hall where you might need more comfortable seating with more space between rows.
Stadium Chairs. For maximum performance and durability, the stadium chair is designed for ergonomic comfort and outstanding appearance and is manufactured using world-class technology. To enhance your indoor arena and add a touch of style and color, the stadium chair is the perfect choice.
Whatever crowd you need to serve, Toadvine has all the seating options that your indoor arena could need and will leave fans and spectators on the edge of their seat when you design your facility with versatile, quality seating from Toadvine. For a quote on your indoor arena seating, contact us here.
Topics: stadium seating, bleacher design, indoor seating