Although soccer is undeniably touted as the most popular sport for women in the NCAA, soccer had not gained the popularity at the college or youth level, until recently. With the growing popularity of the World Cup championship, the sport of soccer is sparking massive growth and interest in spectators, media, and corporate sponsors while promoting greater cultural awareness.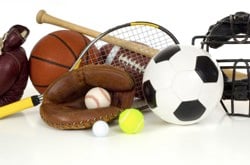 Ticket purchases to the 2012 World Cup soccer game were made overwhelmingly by US patrons than any other country, other than the host nation. ABC and parent company ESPN have spent a combined $425 million to secure the US rights to broadcast the World Cup games, the most spent by any single country.
As these national trends emerge, locally, those same trends are also being mirrored. Youth soccer leagues including Upward, YMCA, and more competitve leagues like Mockingbird and Javanon have seen an explosion of interest and participants within the last several years. Multiple leagues abound within the area that provide opportunities for children to play on a competitive level up to high school age. Rec leagues have also seen heightened interest and talent emerge as a result of continual play at a more competitve level.
The Kentucky Youth Soccer Association, an organization with more than 50,000 players, coaches and administrators, feels so strongly about the rise in soccer interest, that they are taking that message on the road this month with a first of its kind mobile soccer marketing tour entitled, "the Kentucky Youth Soccer Experience." This soccer informational tour has plans to visit 60 soccer communities and events throughout the area to promote soccer and healthy living, while also bringing awareness to the battle against childhood cancer, in honor of a young local soccer player, Lane Goodwin, who lost his battle with cancer last year.
Investment in soccer at the collegiate level also saw a huge boost recently, when the University of Louisville announced that it would build a 5300 seat, $16 million soccer complex which would become home to the UL men's and women's soccer team and attract Big East Championship Games. This complex is slated for a September 2014 open.
Players who thrive at the collegiate level still don't have to leave Louisville to further their playing career. The River City Rovers, a Premier Development League with more than 73 teams, is considered a "shop window for major league soccer players" ages 17-30.
Opportunity abounds at all ages in our community as the soccer boom continues to magnify. From pee wee to grown up, players who love the game of soccer can stay involved at every level and score many years of playing right here in the Louisville area.
Topics: Mockingbird Valley, Upward, YMCA, Javanon, Kentucky Youth Soccer Experience, Lane Goodwin, Kentucky athletics provider, Kentucky soccer equipment