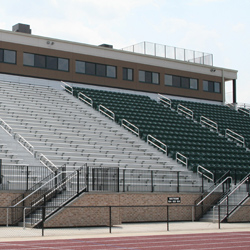 Closure Panels are a finishing element added to a grandstand or bleacher that adds not only safety and maintenance benefits, but also a finishing touch that makes a lasting impression. Closure Panels are often added to stairs, ramps, elevated walkways, handicap areas, mid-cross aisles, and press boxes to complete the look and provide added functionality and safety.
There are several different types of closure systems to choose from including:
Architectural Panels. This system offers a classic, rich masonry texture look to enclose the exposed structure of stadium elements. With the look of real bricks, your facility will receive a classic ballpark aesthetic at a fraction of the cost.
Poly Panels. This non-corrosive, impact-resistant Poly Panel System is made of 100% recycled material and serves to conceal cross braces and framing material with solid, flat panels to give the stadium a more polished look. Aside from the aesthetic appeal, this system also enhances revenue generation by increasing the ability to affix sponsor/donor signage or logos. It also promotes safety by eliminating under-bleacher access, and increases function by lowering time and expense of clean up under bleachers. Choose from 10 standard colors.
Aluminum. This is the most cost-effective way to enclose your bleachers and decrease maintenance costs while also increasing traffic control abilities. These powder coated systems visually enhance the overall look of the grandstand while displaying team colors and projecting team colors.
Whatever your needs may be, Toadvine Enterprises can help you secure a closure system that will boost your visual presence. Contact us to learn more.
Topics: football bleachers, Closure systems
About this Blog
Our blog is written for athletic directors and school superintendents of elementary schools, middle and high schools, as well as colleges and universities.
We blog about local sports and industry news, bleacher and stadium maintenance, and current projects we're working on. We encourage you to subscribe in the box above or share this blog with your friends!