Here at Toadvine Enterprises we are entering our busiest time of the year. We have several indoor bleacher jobs and outdoor stadium seating jobs on schedule as well as several maintenance and inspections on athletic facilities throughout the states of Kentucky, Tennessee, Indiana and Ohio.
One of the bigger jobs we have going at the moment is the addition of backrests to the lower bowl of the University of Kentucky's Commonwealth Stadium. Last year we installed backrests to a portion of the lower bowl, so this year, the powers that be at UK came back and asked us to outfit the remaining lower bowl with backrests. We are excited as it will not only add comfort to the fans in attendance but also change the look of the stadium by adding more color.
We enjoy our great relationship with the University of Kentucky and look forward to many more projects with them! If you would like more information on how we can help you design your next set of bleachers or have questions about athletic equipment, please call 877-211-6925 or visit our website at toadvine.com and one of our sales representatives will be happy to assist you.
Below is an update photo from the jobsite. As you can see in the picture the sections in the far endzone are nearing completion.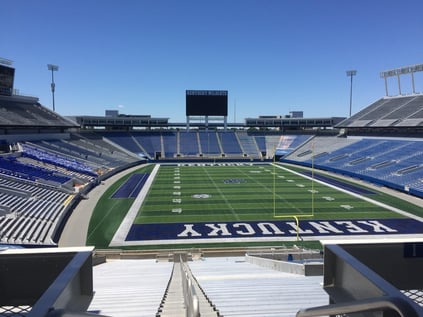 Topics: Toadvine Enterprises, bleachers, Dant Clayton, Commonwealth Stadium, Kentucky, Football Stadium, Renovation, Backrests, UK
About this Blog
Our blog is written for athletic directors and school superintendents of elementary schools, middle and high schools, as well as colleges and universities.
We blog about local sports and industry news, bleacher and stadium maintenance, and current projects we're working on. We encourage you to subscribe in the box above or share this blog with your friends!