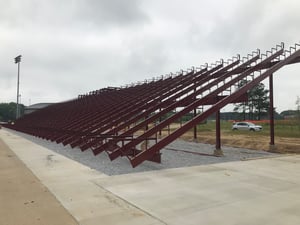 Toadvine is excited to announce our involvement in the construction of the new Collierville High School that is scheduled to open in the Fall of 2018. Toadvine is providing construction of the outdoor grandstand bleachers for football (home & visitor), baseball, softball, soccer, and tennis. Toadvine is also providing indoor volleyball equipment and outdoor athletic equipment for track, baseball, and soccer. In addition, Toadvine is providing the ceiling suspended basketball goals for the main gym as well as both auxiliary gyms. Here is quick update on the project.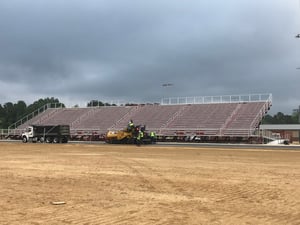 Main Gym & Auxiliary Gyms – Basketball

Porter Athletic goals are up in all 3 gyms; installation was completed in late February.

Football Field – Dant Clayton outdoor football bleachers

Visitor Side – Bleachers were installed in early May; currently finishing up final touches on ramps & walkways.

Home Side – Steel beam infrastructure was completed in mid-May; currently installing seat planks, foot boards, risers, ramps & walkways.

Baseball/Softball/Soccer/Tennis – Dant Clayton outdoor bleachers

Construction to begin in June, 2018
Stay tuned for the next update during the construction of this impressive new school. When completed, it will have one of the best athletic facilities in the state of Tennessee.
Topics: high school football bleachers, basketball goals, Baseball
About this Blog
Our blog is written for athletic directors and school superintendents of elementary schools, middle and high schools, as well as colleges and universities.
We blog about local sports and industry news, bleacher and stadium maintenance, and current projects we're working on. We encourage you to subscribe in the box above or share this blog with your friends!