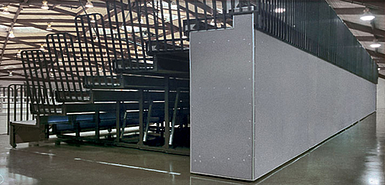 The practical design and flexibility of the telescopic bleacher system has been used by spectators and fans for more than 70 years. Telescopic bleachers are still a very popular choice in many arenas today. Each telescopic bleacher project is custom made and adapted to the dimensions available in your indoor facility.
Mainly used in indoor facilities to increase seating capacity, the
mobile
telescopic seating product adds a series of bleacher modules that can be folded to occupy very little space when not being used.
The mobile bleacher system is one of the most flexible seating systems available to schools and sporting facilities and is commonly used to accommodate a variety of needs.
Mobile bleacher systems can be used in one part of the building and then transported and stored in a different part of the building. This style of seating can run up to 21" wide with seating capabilities of 14 rows at a 10 1/4 inch rise or 12 rows with an 11 1/2 inch rise. These independent, self-supporting units do not require anchorage to the wall or floor. Used commonly in gymnasiums, music rooms, cafeterias and class rooms, these bleachers provide easy manual operation.
A portable hydraulic dolly is required and generally provided to transport units to and from spectator and storage areas and a pair of hydraulic trucks are required to move the mobile units.
Back handles and back rails are required by code and for safety purposes. With a standard height of 8" the back panel provides a flat wall type surface to discourage access to the understructure of the bleachers. All of these features make the mobile telescopic bleacher a very flexible and independent choice in seating.
When your facility demands a quick transformation from a wide open space to a fully functioning spectator arena, consider the benefits of the mobile telescopic bleacher system. For more information on how Toadvine Enterprises can meet your seating needs, fill out our form to the right and receive a free quote from one of our seating professionals.
Topics: seating concepts, bleacher design, Telescopic Bleacher Seating
About this Blog
Our blog is written for athletic directors and school superintendents of elementary schools, middle and high schools, as well as colleges and universities.
We blog about local sports and industry news, bleacher and stadium maintenance, and current projects we're working on. We encourage you to subscribe in the box above or share this blog with your friends!